Welcome to the UBSTUDIOS DXERS page.
We are dedicated radio listeners, attempting to find far away radio stations across the radio spectrum.
We always strive for complete accuracy in our finds. If you spot an error, please let us know.
In order to see our logs, check out the menu on the left side of the page.

Current active DX locations:
Twin Cities, MN
Sheridan, WY
DX Catch Report:
2022's skip season is long in the past, and AM DXing has taken over.
Twin Cities AM DX is over 1,160 logs and not stopping! Sheridan breaks 520!
Casper DX has returned, some DXing has occurred there. The log has been redone from the ground up.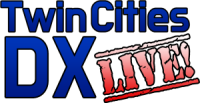 Live audio from our radios! - Seasonal.




The home of Saturday Night DX and other DXing related videos

---
Mediumwave TOTALS SO FAR: (Active stations only)

Twin Cities:




Stations received from the metro area starting August 24, 2016

Sheridan:



Stations received between April of 2011 and May of 2015. Also, May 9, 2020 to present.

Casper:



Stations received between 1992-1999, 2004, 2010, 2012, 2013, 2020 to present

SFO Bay Area:



Stations received. These stations are received by veteran DXer Leeroy in the Bay Area.


FM TOTALS SO FAR:
Twin Cities: 1,190 unique FM stations [including pirates]. (starting August 24, 2016 to present)
*** - there still is a possible margin of error on these numbers, however they have been counted several times.
---

---
Retired DX Locations

Images used on this website are copyright by their respective owners. This page is copyright Ubstudios and WYDX.
A lot of measures have been taken to ensure the accuracy of these logs, however we are human. If you believe you see an error in any of these logs, send us an email at dxfm1019 at gmail dot com.
Green River: FINAL: 345 Stations received 1999-late 2020
Grangeville: FINAL: 414 Stations received from November of 2009 through April 2020.
St. Cloud: FINAL: 395 Stations received between June 6, 2015 and August 25, 2016. Updated on 11-27-19.
Salt Lake City:FINAL: 355 Stations received between 2005-2010
Flagstaff: FINAL: 301 Stations received between 2004-2009
Laramie: FINAL: 190 Stations received between 2003-2009 with updates until 2014.
Southern CALI: FINAL: 215 Stations received