WILKINS PEAK - Sweetwater County, Wyoming
If you're a fan of Wikipedia, Wilkins Peak has its own article there. The article is a "good" class article making it one of the finest contributions to Wikipedia. And who do you think made it that way? Well, us of course! Lets start with some information...
Wilkins Peak is located between the cities of Green River and Rock Springs in west central Sweetwater County. That's about 9 miles from Green River, and roughly 7 miles from downtown Rock Springs. As one of two main broadcast peaks in the region, Wilkins Peak handles a fair number of FM and TV services. At its highest, Wilkins Peak is 7,650 feet above sea level.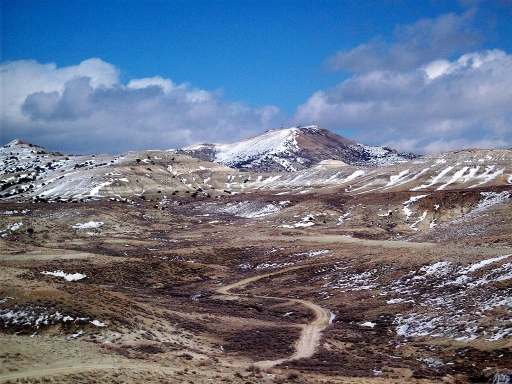 (Wilkins Peak as seen from the southwest)
We start with the FM stations on the mountain first. Perhaps the first station to put a signal from Wilkins would be that of KYCS which is broadcast on 95.1 and has been carrying its same hot contemporary mix of hits for years. KYCS signed on the air on October 1, 1986. On the same tower, are two sister translator stations (and a religious broadcast translator) put on the air as recent as 2008. The first of these rebroadcasts KUGR (yes that's AM) on a frequency of 104.9 FM with 250 watts. The station's call letters are K285FG. It's coverage mimics the AM signal in many ways, besides the addition of FM stereo. I'm assuming since there are four stations sharing the same tower, that space is pretty tight and filters be a running. The next sister rebroadcasts KZWB on 105.9 with 13 watts. It is known as K290BJ. Why this translator exists boggles me because KZWB comes from a tower no more than 20 feet from KYCS... and at 10 times the power. The next translator moved onto KYCS's tower in 2009 after a new station in the area (KZUW) came on the air, and took 88.5. K205FE (a religious translator) was originally broadcasting out of Rock Springs on a tower you can see at that page. After KZUW came on the air in 2009, the translator was forced to move to a different frequency and chose Wilkins Peak for its broadcast site. K205FE puts out only 15 watts (a downgrade from when it was on 88.7) but being on Wilkins gives the station farther reach than ever before. Yay for four stations on one tower! Wilkins became home to KTME 89.5 on September 29, 2010, and is licensed to Reliance, but covers most of Sweetwater County pretty well with 350 watts. The tower for KTME is atop one of the "tv" antennas seen in the 2nd from left picture below.
The second "main" FM tower on Wilkins Peak is KFRZ 92.1. KFRZ has been country its entire life (circa 1998), and boasts a 12kw signal from a separate tower on the mountain. The station originally carried nearly 100,000 watts but was downgraded sometime between 2010-2015. In 2005, the owners of KUGR/KFRZ/KYCS did it again, and KZWB was born. KZWB is a little lower power (10kw) on 97.9 from the same tower KFRZ is on. Why only 10 kw. A station 150 miles away on the same frequency says why. KBZN, Ogden, Utah, also broadcasts on 97.9 from Farnsworth Peak in Salt Lake City. There are places on the fringes of both stations where the signal is unreadable due to interference. This isn't a problem however, as a huge mountain blocks most of KBZN from KZWB, but it was done in true FCC style for usual measures.
There is one more quick history lesion from Wilkins Peak however. Prior to 2003, Wilkins Peak was home to the area's NPR signal KUWZ on 90.5. In September of 2003, a propane truck carrying the gas to customers on the mountain lost its brakes and toppled over the tower. Luckily nobody was hurt, but KUWZ would go off the air for several days, and then back on sharing tower space with KYCS. Once funds were available, KUWZ moved its tower to nearby Aspen Mountain, and was happily humming along again. The pictures below illustrate what KUWZ used to look like, as the sole tower on the western edge of the peak. It was also the only tower with FAA warning lights, which have not been replaced as of late 2009. Here is a picture of remains of the tower still present in 2005, two years later.
And there you have it. 7 FM stations now call the mountain home. Luckily, with good engineering and dial spacing, all of them seem to play nicely with one another. We're not done with Wilkins Peak yet however...
(Above - KYCS 95.1, and riding piggy back.. K290BJ, K285FG and K205FE; 2nd from left - KFRZ/KZWB (far right) and the TV broadcast towers mentioned below. Far right - A comparison showing the former KUWZ)
Note, you can click on the KFRZ/KZWB, KUWZ or KYCS pictures to see larger images.
Television stations
The towers in the middle picture above to the left of KFRZ/KZWB (the farthest right largest tower) are just as crowded as KYCS seems to be these days. It is not FM stations that are eating away at precious space on these towers, it is television. Wilkins Peak has two higher power (but not full) television stations broadcasting from one of these two towers. It was also once home to the area's PBS translator. The picture above shows the former location of K22BK, the Wyoming Public Television translator on channel 22. The station relocated its transmitter some time between 2008-2009. It is now on White Mountain, broadcasting from the same tower as it's digital counterpart K28JU-D. See White Mountain at the bottom of this page for more information. K22BK receives its programming via microwave from the main transmitter located far to the north near South Pass City, Wyoming. K28JU-D's PSIP data displays the channel number as 8-1, the same as parent KCWC in Lander, WY. Sadly, analog television has begun to fade and with it, is bringing translators off the air forever as well. As of this writing, or possibly due to receiver error or transmitter problems, K22BK (at least from this location) is dark. *Note, this also could be due to my weak receiver at the time. K22BK carries 960 watts of power, which is fairly weak in TV terms. The tower has also moved since I last checked, and chances are, I was aiming at the wrong mountain :D In the spring of 2010, I can confirm that K22BK is not broadcasting analog. K28JU-D is operating normally.
On the tower adjacent to what was K22BK (also seen in the middle picture above) K35CN, was the peak's second best known TV station, and easily the highest ERP. K35CN was an affiliate of the Trinity Broadcasting Network, which is a religious broadcaster based out of Costa Mesa, California. While K22BK is licensed to Rock Springs, K35CN was the only TV station licensed to Green River. K35CN bit the dust after the digital transition, and has not been seen since.
Only two stations (and a former transmitter) from two towers? Wow that's easy, or is it. No, we're forgetting over half a dozen other low power TV stations that broadcast from one of the two towers as well. The newest TV translator to the mountain is known as K24GZ. This station is a religious broadcaster, as it is owned by EICB, TV. K24GZ may or may not be on the air from Wilkins yet, because as of this writing, it is still a construction permit. The power is also low enough that my receiver may have not received it. Likely the CP hasn't been constructed yet. The station has a digital counterpart in CP mode as well. It is known as K33IX-D and broadcasts on channel 33. I can confirm that as of Spring 2010 that K33IX-D is on the air, carrying religious programming. It was received in Green River with little to no problems for several months, before going off the air possibly due to techincal difficulties. A call to the company that owns the station lead virtually nowhere. I have notified them several times that their station is off air but nobody seems to care. K24GZ (the analog version of K33IX) is, and has always been off air.
The next list of stations also came from the same two towers as previously mentioned. They were all owned by the same company (or person). Here is a quick list of stations (supposedly) broadcast from Wilkins Peak: K64EP; K58EW; K56FW; K48FE; K30EQ; K20FA; K18ER. This link shows these call signs. Notice that most are either Loflin's Children's Trust - One or Two. If anyone knows anything about these stations or if they are actually on the air, please get in touch with us. I have never been able to receive them from Green River, or from about half a mile from the peak itself (although the power on some of them would be sufficient) so I have no idea whether they are actually transmitting or not. In Spring 2010, I confirmed that none of the stations in the list above are broadcasting. Isn't that illegal?
That's about all there is to Wilkins Peak that is of note these days. You can read more about Wilkins on Wikipedia!