Rock Springs AM and FM Market (in the city limits)
Back
Rock Springs Chamber of Commerce
White Mountain Wikipedia article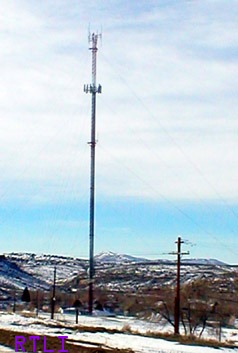 The former home of K204EC 88.7 FM 250 watts.
Currently used as a cellphone tower and possibly for local business etc.
Moved to Wilkins Peak in 2009 and changed frequencies from 88.7 to 88.9 to make way for KZUW.
---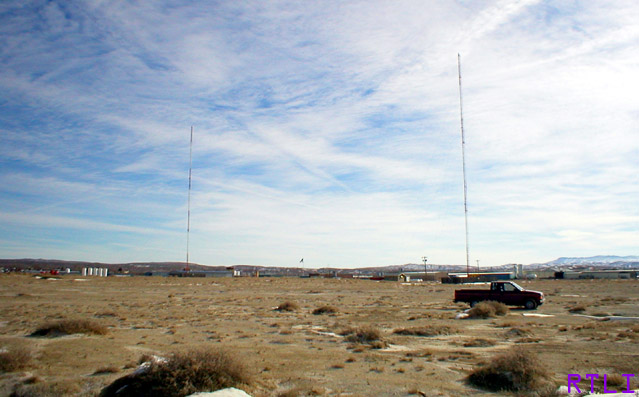 KRKK AM 1360 5/1kw DIRECTIONAL ARRAY
The tower on left is the daytime antenna. Both are used during the night hours as this station is directional.
Click here to see a larger (closer) picture.
This is the road I created to get to the site. I call it: 3 Beers Road.
This, is their studios. KQSW, KMRZ, and KSIT also come out of here as well.
---
K299AG 107.7 FM (Located on White Mountain)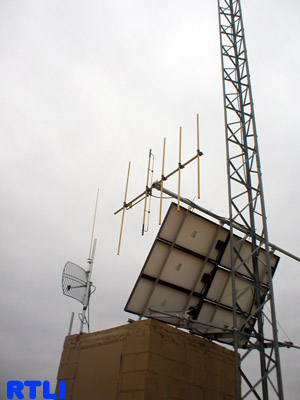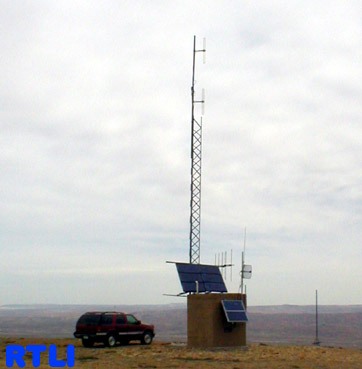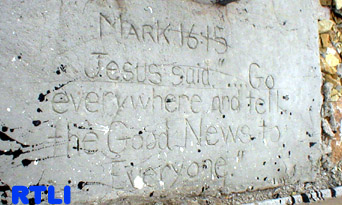 The left picture shows the Yagi used by the station that transmits the actual station. The center picture shows the main tower, with solar power for the station and microwave relays to other translators in the area. The farthest right picture is on the cement at the base of the tower.
---
K28JU-D (The local PBS digital translator, also on White Mountain)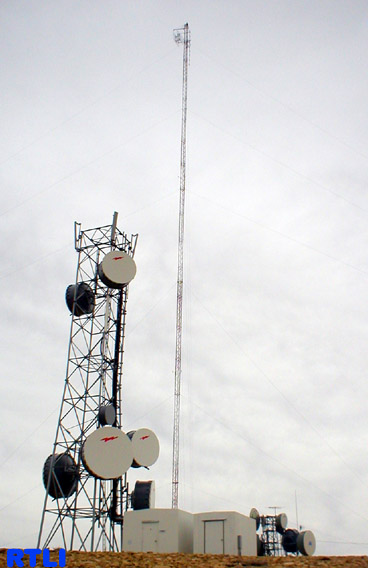 The oldest tower on White Mountain (center) is also a new transmitter transmitter location for K28JU-D, which will show up as virtual channel 8 if you own a digital television or converter box. K22BK, this station's analog counterpart, has relocated here as of summer 2009. K22BK was originally on Wilkins Peak. This tower (the main tallest) has been here since at least 1960, and is owned by Sweetwater County Cable. I suspect it is used to receive stations from the area and send them to the cable to be put on the air. It is likely that the Salt Lake stations are received here, and piped into the two local cable companies. The tower that is closest to us in the picture above is a celluar telephone tower, with multiple owners, including the BLM. The larger tower site is also (possibly) the location of a couple of new lower power translators on the FM dial as well. The next update cycle of this page will likely address this issue.
Note this page was last updated 4-22-09.