St. Cloud, Minnesota area RTLI Coverage
In early June of 2015, one arm of the Ubstudios production team relocated from Wyoming to St. Cloud, Minnesota. What follows is our RTLI Coverage of the St. Cloud AM/FM and TV market.
Scott Fybush, who's Tower Site of the Week inspired RTLI almost 15 years ago, has visited the St. Cloud area, and his coverage can be found here. Rather than duplicate his information, which is much more in depth, we have elected to focus on the towers and basic information. We will be starting with the FM market in St. Cloud.
AM and FM MARKET (starting with FM)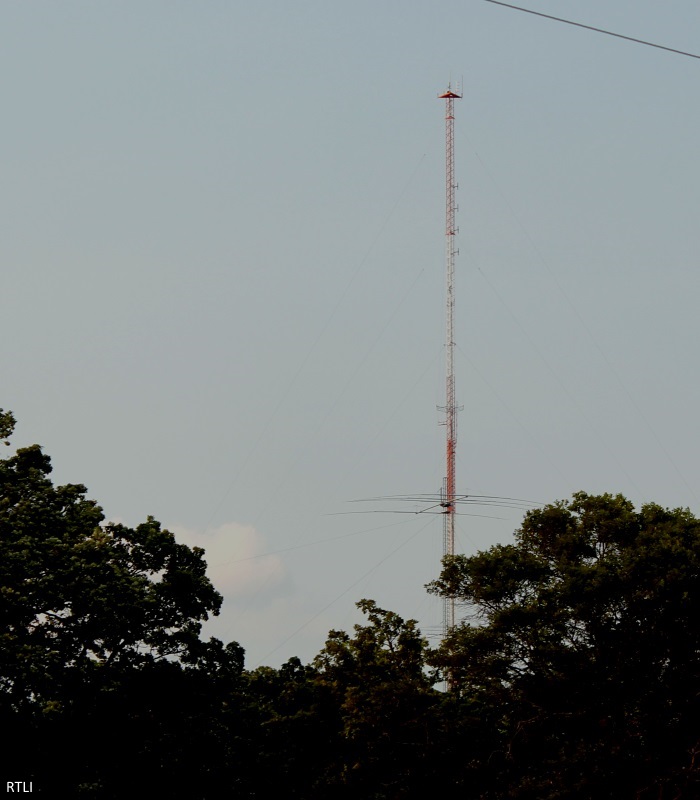 On the west side of St. Cloud, just off of Highway 15 near the off ramp to Interstate 94 lies two towers that carry FM stations, plus a number of other cellular telephone towers. At the bottom of the dial, KVSC 88.1, comes from the tower at left. The four vertical bays, yes that's vertical, are several feet below the top of the tower.
KVSC is a student-run station that broadcasts from a studio on the campus of KVSC, which you can find at Scott Fybush's site above. It has a sister station KVEX-LP 97.5 which does not broadcast from here, rather a tower on campus.
The ERP is 16,500, which covers Stearns County and the metro fairly well, although it was noticeably weak to the west as your editor was out finding more distant towers we'll see below.
Also from this tower comes K208DV 89.5, an Air 1 affiliate. Scott's web site listed the station as an EMF affiliate in 2014. 89.5 boasts a meager 62 watt signal that covers the metro, and is not easy to null from the primary St. Cloud DX location on the east side of town.
Back to the main transmitter here, KVSC though. As you can see from this page, KVSC began as a 10 watt station on 88.5. There are no 88.5 stations anywhere near St. Cloud these days. The station began 24/7 operation in 1994.

As far as the format of KVSC, it is primarily what you'd consider a college station to be, a mix of indie artists with sometimes well known hits. There are often shows which air oldies, such as a Del Shannon song, and I'm guessing the students have somewhat free choice in what they want to air (within limits likely).
KVSC also broadcasts in HD, with (as of this writing in 2015) three subchannels. KVEX-LP is on the HD-2 Channel while a talk format is on HD-4. There is no HD-3 at present. Also, that 20, 10, or 6 meter antenna in this shot is on its own separate tower. I would love to know if KVSC or 89.5 interfere with its operations. KVSC and the translator are both licensed to St. Cloud.
Slightly up the dial from KVSC but farther west of town, we come upon our next find, two stations on one tower, on a nice hill (no mountains in Minnesota) north of Richmond, Minnesota. These two stations are affiliates of Minnesota Public Radio. They are KNSR 88.9, and KSJR 90.1 FM.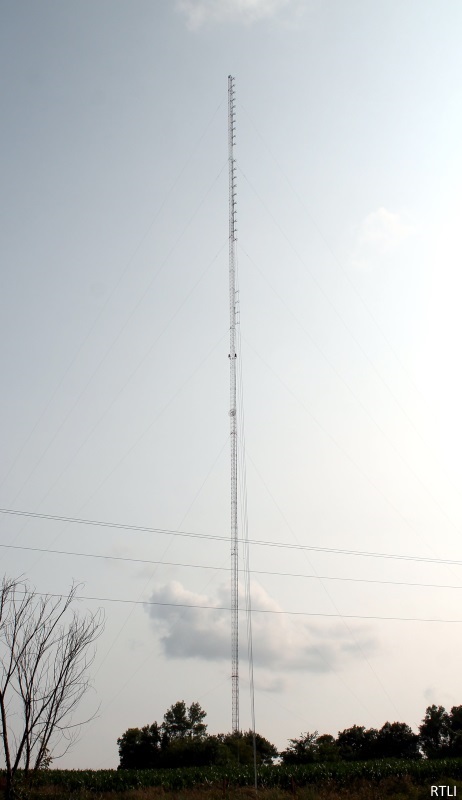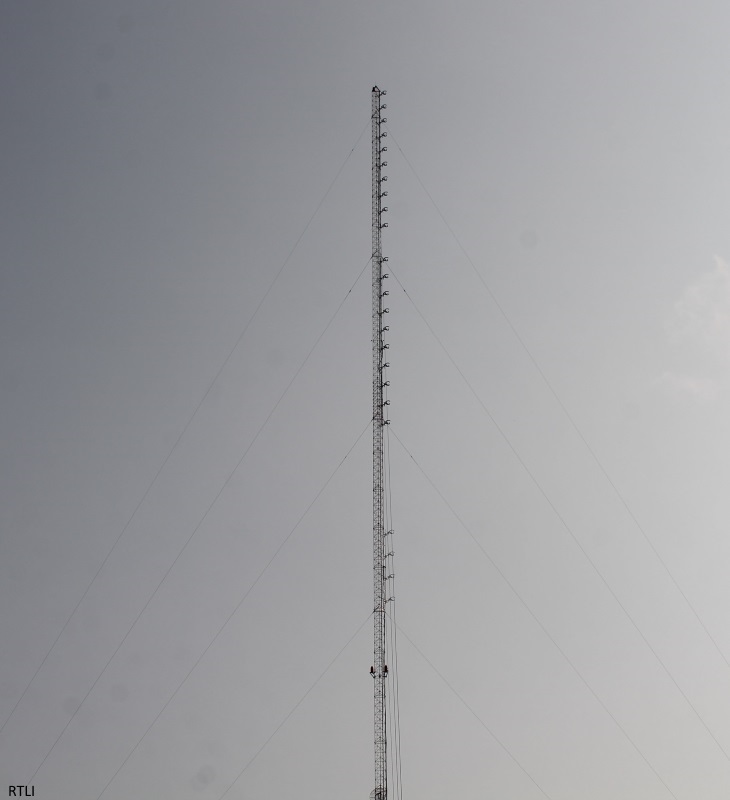 As mentioned, KNSR 88.9, and KSJR 90.1, are both affiliates of Minnesota Public Radio. KNSR carries NPR programming primarily from KNOW 91.1 in Minneapolis, about 60-70 miles to the southeast, while KSJR carries classical music.
It should be known that no less than five Minnesota Public Radio stations are audible from St. Cloud on any given day. KSJR and KNSR are both licensed to Collegeville, Minnesota, which is northeast of the tower. The tower itself is located about 3.4 miles north of Richmond in Stearns County. The nearest major road is County Road 9.
KNSR is at 728 feet HAAT, while KSJR 90.1 is 846 feet HAAT, which puts it at the top of the tower. KSJR also has an auxiliary bay just about half way up the tower. Both stations are 100,000 watt class C1.
The picture at right is a close up of the FM bays.
KNSR signed on in December of 1987, while KSJR has been on the air since 1967. Both carry HD broadcasts.
KNSR-HD-2 is a simulcast of KCMP from south of Minneapolis, which is "The Current" on air. KSJR has no subchannels.
The tower you see is just south of what is perhaps the tallest FM tower I have seen so far in the Midwest, KCLD 104.7 FM. We'll see it below.
Next, we head north again to see KKJM 92.9 St. Joseph, MN. We'll get to KCLD soon, don't worry. I'm just going by frequency, low to high. Sorry :).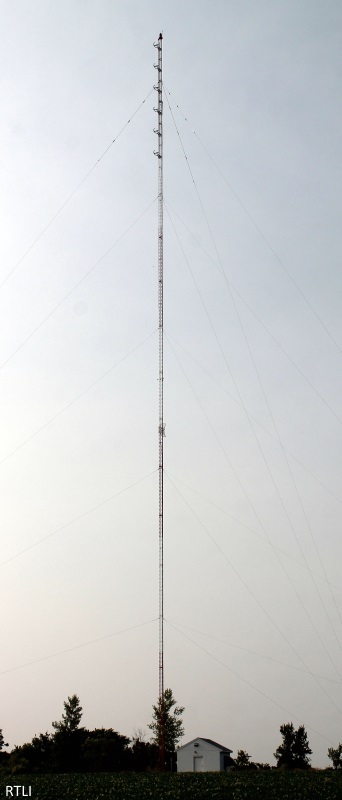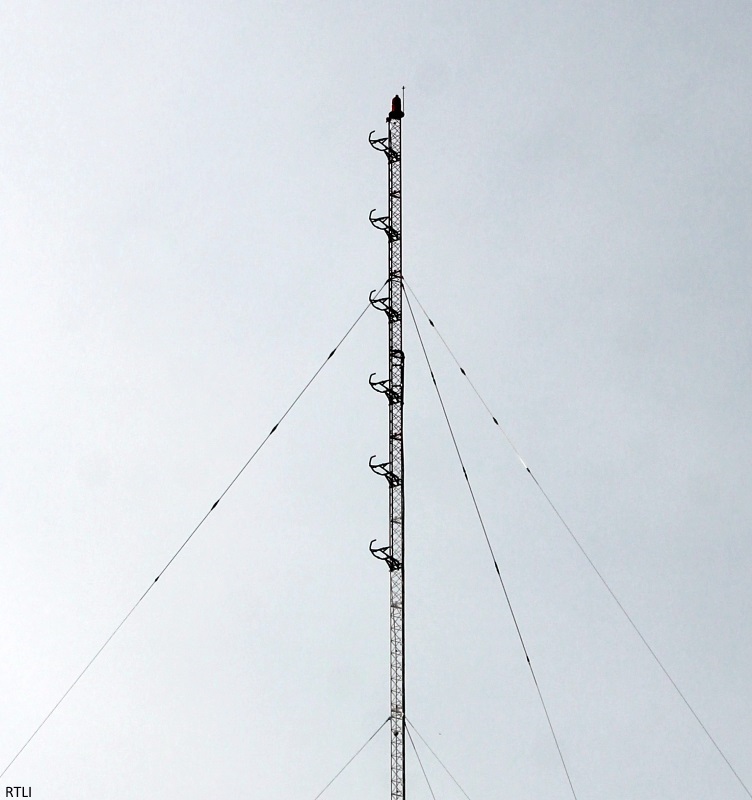 KKJM 92.9 (left) is located northeast of Avon, Minnesota, still in Stearns County. It is located near County Road 3, off 355th street. It is known on air as "Spirit 92.9", with a Christian Contemporary religious format. The station is owned by Gabriel Communications, with studios in Sauk Rapids, we'll see below.
As far as technical details are concerned, KKJM 92.9 broadcasts 25,000 watts, Class C3, from 100 meters. The tower is relatively short, despite looking tall in the photo. Trust me, it is nowhere near as significant as the towers for KNSR or especially KCLD. It is also located in an odd spot, but is close to its city of license St. Joseph. The wattage and height of this station do not afford it that much coverage, other than the St. Cloud metro. The station does have a number of billboards, something I'm unfamiliar with in the west. I guess they assume people listen to the radio in places like Wyoming, and don't need to be reminded the stations exist.
As the FCC was down at the time of this writing, I am unable to pull up call sign history, and Wikipedia isn't showing any such. I was also unable to find a first air date, other than the year 1994.
KKJM is about 5.8 miles northwest of St. Joseph, its COL.
South of the KNSR/KSJR tower above, we head to Cold Spring, and the tower for KMXK, located near the intersection of County Road 2 and 21.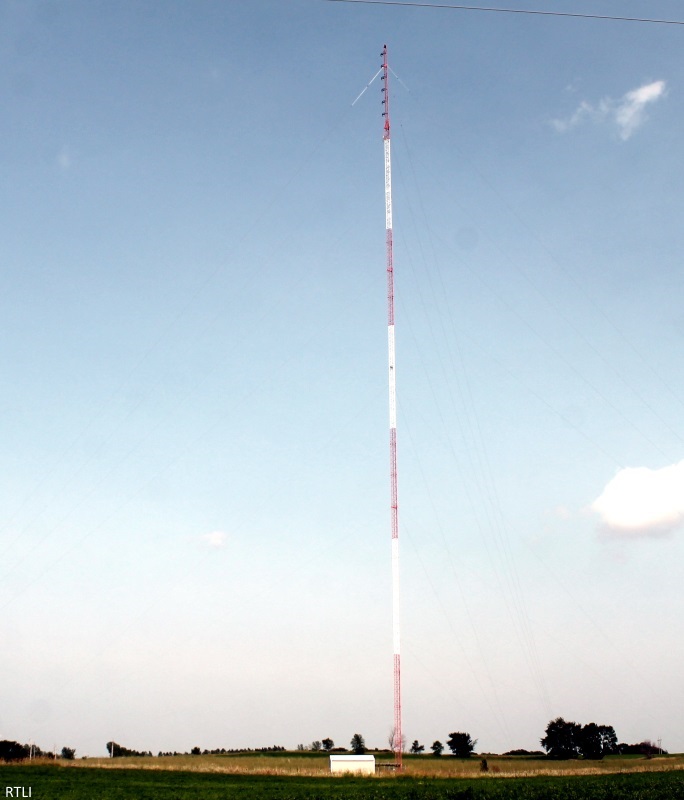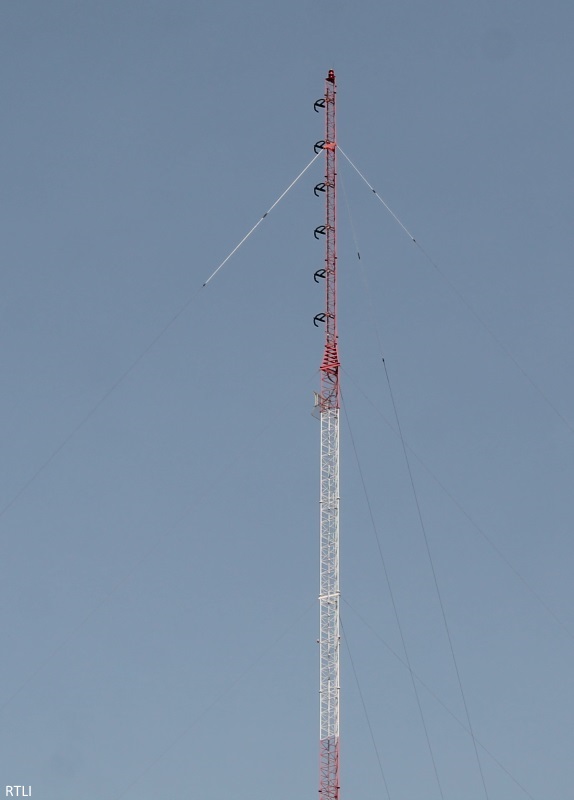 KMXK, 94.9, is a Townsquare Media station. The studios are located on the far east side of St. Cloud, just over a 1/4 of a mile from our DX location. I can actually see this station's studios (seen below) from my apartment parking lot. KMXK is licensed, appropriately, to Cold Spring, and carries a hot adult contemporary format. Their primary competition is KCLD 104.7. KMXK differentiates themselves by playing more of a mix, rather than just straight CHR. They are known on air as "Mix 94.9".
The transmitting power is 50,000 watts, and the HAAT is 150 meters. I would say however, that the tower for KMXK is definitely larger than KKJM's above.
It is just 3.8 miles south of Cold Spring, or 16 miles southwest of St. Cloud. It covers the market fairly well. Of note, I was able to hear Duluth, MN OVER KMXK once in Rice, MN, which is north of Sauk Rapids. This shouldn't have been able to happen, but did.
On air, KMXK prides itself on being live and local. Their competition, KCLD, is also live and local for the most part. Each station does their share of VT'ing I assume, especially weekends.
Again, because the FCC site was down, I was unable to find additional details on KMXK, including past call-signs, if any. An interesting note, Goggle Maps shows KMXK was once licensed to Litchfield, which is 19 miles SSW of the tower.
Heading up the dial, we've still got a ways to go. 96.7 is the next local frequency in St. Cloud, occupied by KZRV "Rev 96-7".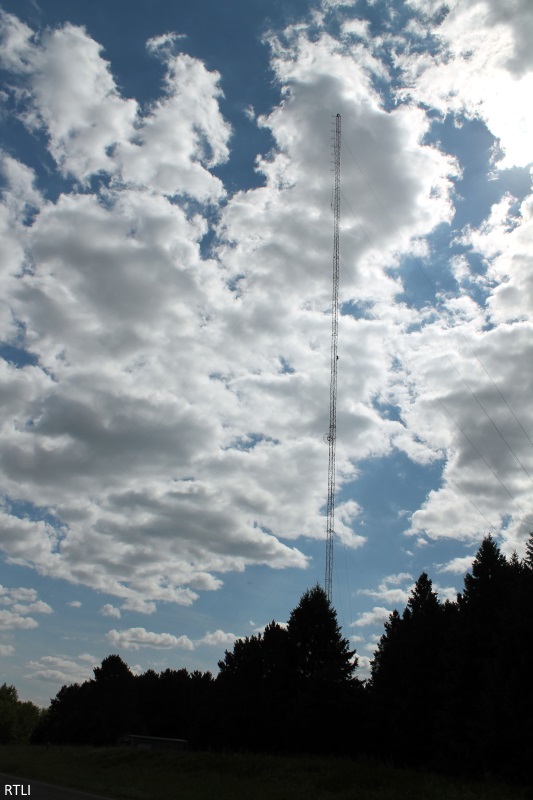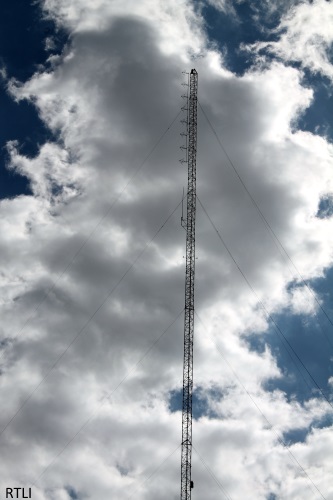 KZRV, licensed to Sartell, MN is far north of St. Cloud, approximately 14.6 miles north of its studios. It is deep in Benton County, southeast of Little Falls. Rev 96-7 is a modern rocker, often leaning toward harder rock bands such as Metallica and flavor of the month butt rock. This isn't obviously one of my favorite stations, but it has a sizeable following of kids on the SCSU campus, so their liners would lead us to believe. It is a Townsquare Media station. KZRV carries 50,000 watts from this site off 15 Ave. NE. I had difficulty finding it, as there is no Verizon service here. Oddly enough, about a mile north of this tower, WWJO has 4G service at its tower. We'll see that one below. A closeup of the FM bay is at right, which according to Radio-Locator is at 453 feet. Yes, its a shorter tower, about half the size of sister WWJO.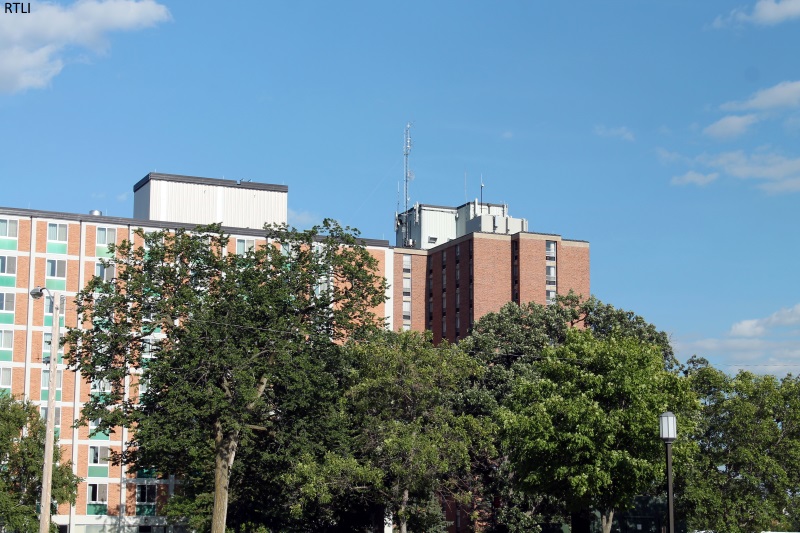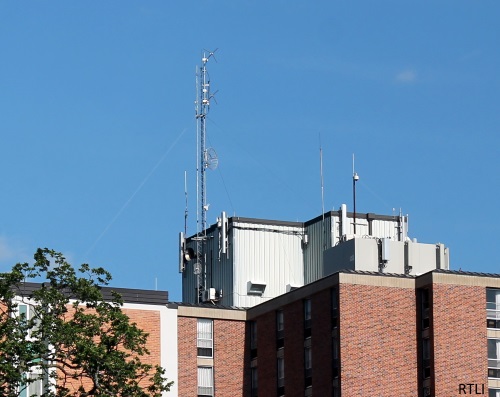 Next we head back to St. Cloud on the campus of St. Cloud State University where two of the lowest power FM's I've seen come from. Sherburne Hall is the location for KVEX-LP, 97.5 which is sister to KVSC we saw earlier. KVEX-LP is strictly a 90s and very early 2000s rock station. Occasionally I hear 80s on there, but it's rare. This station's format brings back a lot of memories of the FM dial during the 1990s. A mere 45 watts gets fairly far from 146 feet. At the previous tower site KZRV, this station could easily be heard (14 miles).
KVEX, like KVSC, is student run. Scott's website shows their studios, but not their transmitter seen here and at right.
Also coming from the same site, signing on August 3, 2015, is KZYS-LP, 105.1 FM, also roughly 45 watts. Radio-Locator and the FCC say KZYS actually has an ERP of 44.79 watts, so I round it up. Ironically, this station is stronger than KVEX-LP, in that it was fighting a Twin Cities station on the same frequency as far north as Genola, Minnesota. Ugh. Just like KVEX, the transmitter is at 146 feet HAAT.
KZYS-LP is owned by the "Saint Cloud Area Somali Salvation Organization" which should give you a good idea of what their programming is. The station was carrying ethnic music of Somali nature (I assume, I don't speak it). St. Cloud and the Twin Cities have a large population of Somali people, the reasoning which is explained here.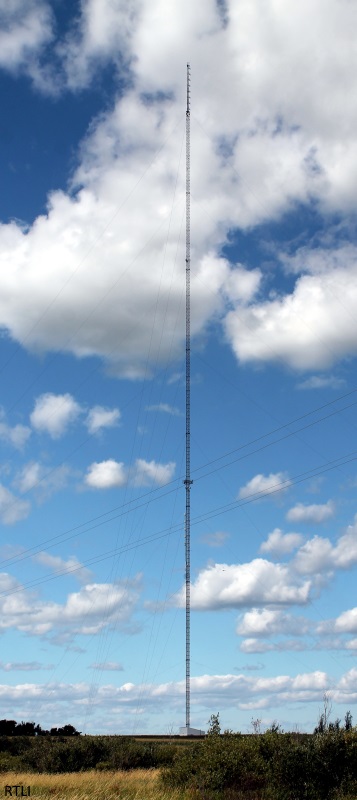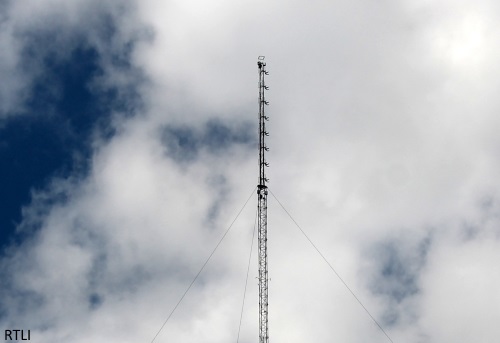 After 97.5 the next local on the St. Cloud radio dial is WWJO 98.1, Minnesota's Country station, which broadcasts from a tower a bit farther north of St. Cloud than sister KZRV we saw above. This one, like KZRV, is out in a corn field. It is next to a wildlife or nature preserve of some type on one side, and a farm on the other. Approaching on a dirt road from the south, you'll see a gap in the corn with an address sign next to it. The drive leads to the building housing WWJO, and I'm assuming an auxiliary transmitter, as there are two bays on the tower. The center of the tower once apparently housed cellular telephone transmitters, but they appear to no longer exist. A pile of rocks is in the parking area for the tower.
WWJO 98.1 is a 97,000 watt'er from about 1,001 feet, making it a taller tower than KCLD's below. This means WWJO's tower is one of the tallest I've seen for FM broadcasting, followed by KCLD. KCLD is on a hill though, making it look taller. WWJO is owned by Townsquare Media, and is your typical country outlet. It is also a skip target for several DXers I know. Now that I know where this tower is, I can see why I don't get anything while they have WWJO. The distance between my DX location and the tower is about 15 miles. That means the world to skip. The station also carries RDS, although it is one of the slowest RDS tickers I have ever encountered. Characters come along at ... r...e...a....l..l...y... slow speed. Its primary competitor is KZPK 98.9, a Leighton station. Twin Cities stations are also competition, as is WYRQ 92.1 from Little Falls, only a few miles from here. WYRQ is a lot weaker though, with its 6,000 watt signal. You can see WYRQ and other Little Falls stations on a separate RTLI page. Click on either of the images to see the full size.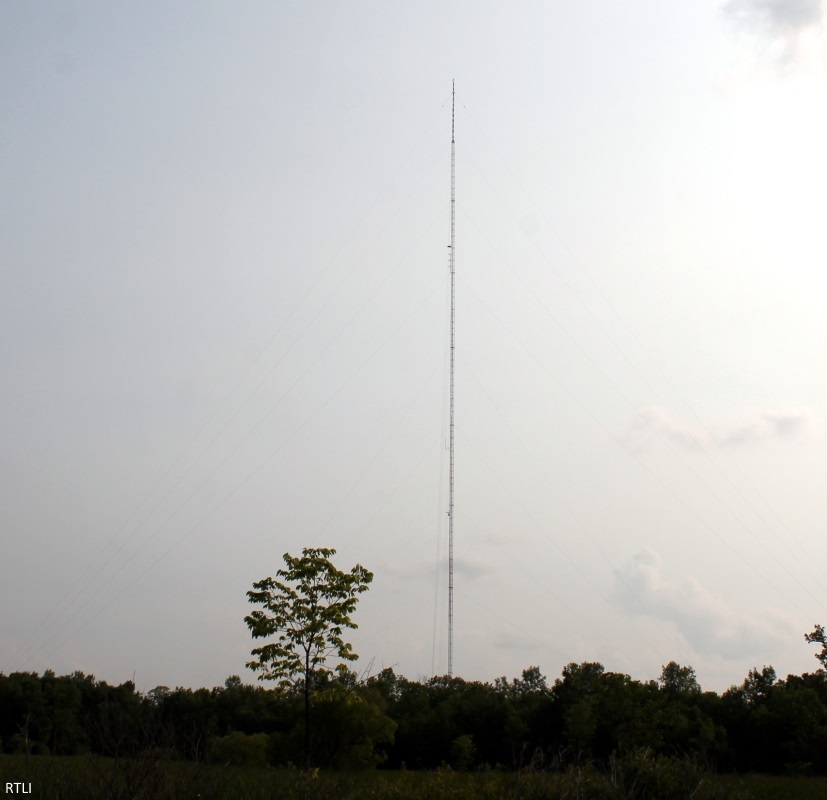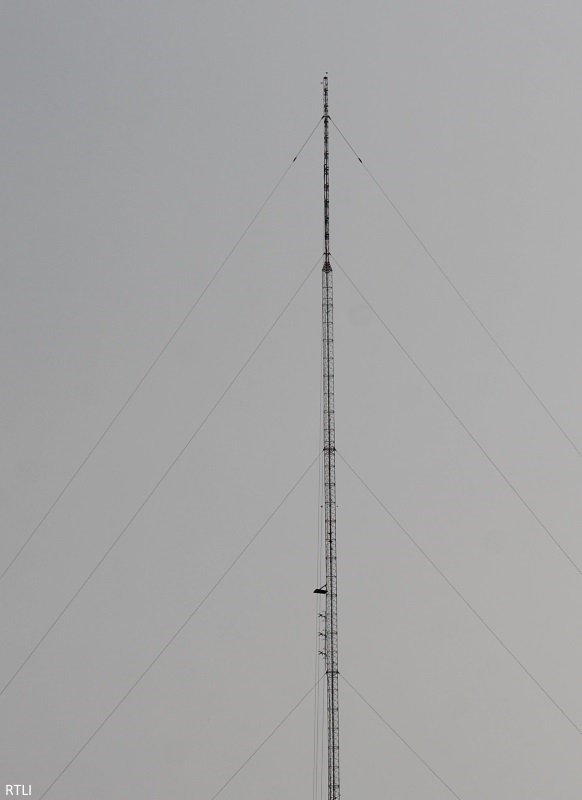 We'll head west of St. Cloud for the next tower, both stations of which are sisters of each other: KZPK 98.9, and 104.7 KCLD. The tower, left, is one of the tallest I've seen in the midwest for FM transmission. Here, stations with towers this high can go for about 100 miles or more. KCLD, the older of the two, is at top at a whopping 980 feet. 100,000 watts from that height gains it entry into the Twin Cities market, 70 miles distant. It's primary competitor there would be KDWB. KDWB is weak in St. Cloud proper.
KZPK 98.9, "Wild Country" is the younger of the two stations, owned by Leighton Broadcasting. Its studios are in downtown St. Cloud, and your editor has seen them. Unfortunately I didn't have a camera when I got the VIP tour. I was applying for a job, and I'm gracious that I received the tour (although I didn't get the job). KZPK carries 47,000 watts from 152 meters, which is considerably weaker than KCLD but still pretty decent for FM. It launched in 1995. It's primary competitor is WWJO 98.1
KCLD, which is also what the station goes by for its brand, is a top 40/CHR monster in St. Cloud. It consistently earns the top spot in the ratings, and with the slick imaging and personalities, it shows. KCLD has been KCLD (no call changes) since 1976. Prior to that, it was known as KFAM-FM, which was owned by the St. Cloud Daily Times. Leighton purchased the station in the 70s, and the iconic calls were born. Here's a page with more history on this. The tower for KNSI (below) was the previous location for KFAM-FM, just off of Roosevelt. It is now the location of both KNSI 1450 and KCML 99.9 (see below).
Speaking of KCML-99.9 and KNSI-1450 AM, here they are in all their glory.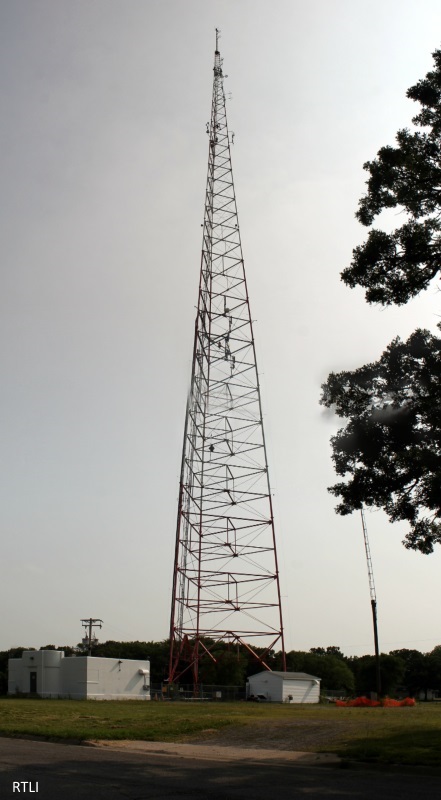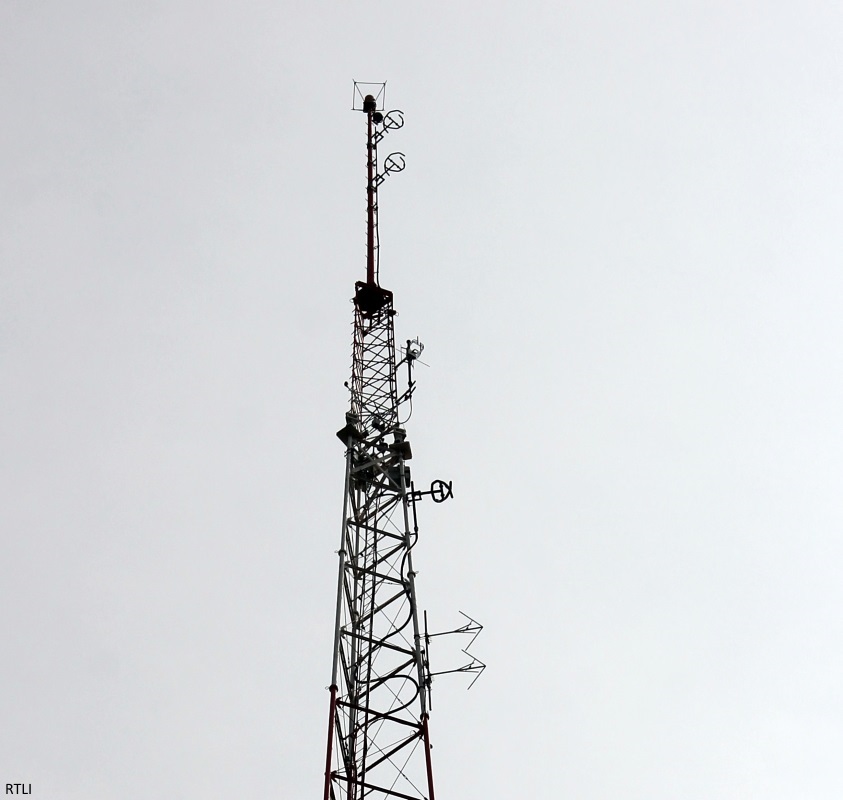 KCML and KNSI are both sister stations to KZPK and KCLD we saw above. All four are Leighton Broadcasting stations, again with studios downtown we may eventually see here.
KCML is the second newest addition to Leighton in St. Cloud, signing on in 1998. It carries an adult contemporary format and identifies itself as "Lite Rock 99.9". There are only 2,900 watts coming from a bay at the top of this tower, but it is still within the city limits of St. Cloud so coverage in the metro area is good. This tower is large, about half the size of the KCLD/KZPK tower to the west. KCML's height is listed as 149 meters. It is a class A signal. KCML's competition includes KMXK which we saw previously, and a station in Little Falls that doesn't penetrate the St. Cloud market that well, KFML 94.1. It also has competition from Minneapolis, but really, the Twin Cities stations are weak in St. Cloud, I doubt they get THAT many listeners... WCCO, 107.9 and KSTP aside.
The same tower carries KNSI, 1450 AM. KNSI started out as WFAM 1450, which according to this page signed on in 1922. Some time in the late 1930s, the station changed to KFAM. It was owned by the St. Cloud Daily Times, and had a deep partnership with the paper. That partnership doesn't continue, I can assure you that. KNSI is a news/talker. Wikipedia notes it dates to 1983, but I doubt that.
As a news/talker, it carries local news, sports, and weather broadcasts as well as syndicated shows like Rush Limbaugh and Dave Ramsey. It is one of several stations around St. Cloud that uses billboards. I've seen the KNSI studios, located in downtown St. Cloud. They have several rooms for the AM side, mostly for news and for the shows. One room has TV monitors for news. I must say, the Leighton studios downtown are pretty slick.
KNSI 1450 also has a translator on 103.3 FM, simulcasting its AM content there. It is known as K277BS. That transmitter is located on the tower seen both at left and right. KNSI's news/talk format started in the early 90s. Prior to that, it was adult standards. According to a reader of this site, the old tapes were in a storage room in the Leighton studio right as you walk down into the actual studios. The reader also mentions that the tower you see pictured here is the 2nd incarnation. The first tower was about 25 yards south they noted. A small back up tower was added when the main was undergoing rennovations and ground improvements.
In late July of 2015, WROJ-LP 96.1 FM signed on the air from the tower, carrying 100 watts of religious programming with it. WROJ-LP identifies itself as "The Rock FM" and is mostly Christian Contemporary. A lot of it is harder Christian Contemporary, if there is such a thing. Looks like I lost another DX frequency to Ditech! The station's HAAT is only 92 feet, putting it 1/4 of the way down the tower if that. Still, 96.1 gets out a good 10 miles or so before starting to get chopped up by other 96.1s in Minnesota. I miss them greatly over this crap. My only hope is that it doesn't last long, but my luck isn't that good.
Next on our tour of the St. Cloud FM dial, we reach the tower for KLZZ 103.7 which is located on St. Cloud's southwest side, just off of Interstate 94. It is just over a mile southwest of the KVSC/89.5 FM tower we saw at the top of this page.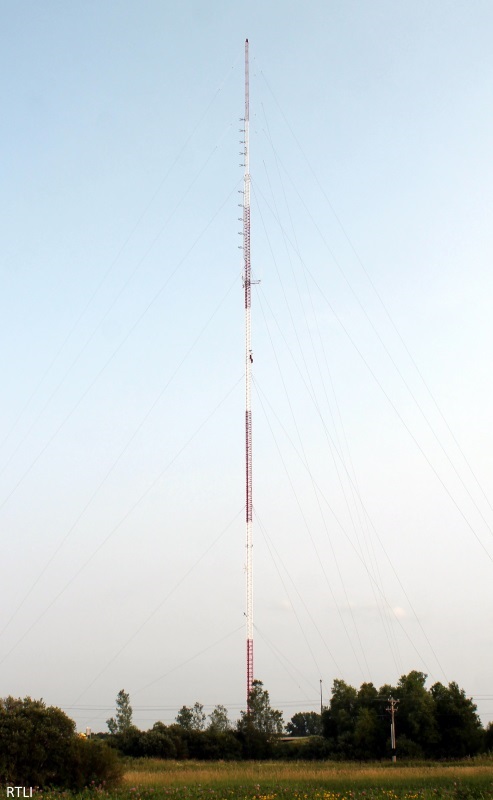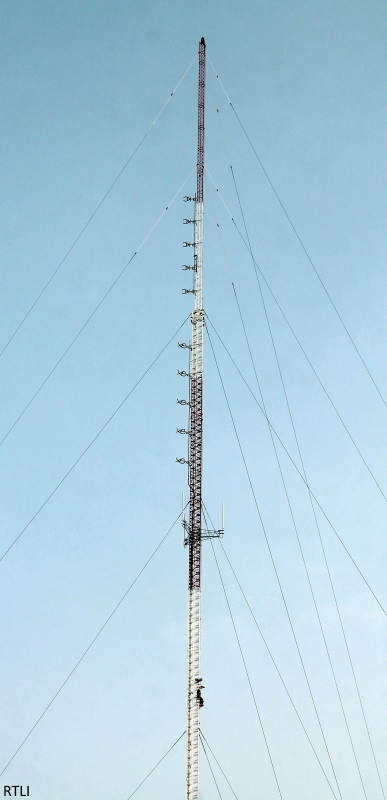 At one point there were actually three stations from this tower, in order of frequency: KCFB 91.5, WHMH 101.7, and KLZZ 103.7. Each of the three is owned by a different company. KCFB is a 15,000 watt religious station known as "The Word". It is owned by Minnesota Christian Broadcasters, Inc., and signed on in 1987. Initially it carried only 800 watts, but upgraded near the turn of the century (Nov. 1999). The station's HAAT is only 106 meters. It is the third and bottom most set of bays in the picture at right, pointing north toward St. Cloud.
WHMH 101.7's bays were located at 145 meters HAAT, making it the top set of bays. It carried 50,000 watts and a rock format. Its primary competitors are KXXR 93.7 in the Twin Cities, and locally, KZRV 96.7 FM. Oddly enough, the competition (Townsquare)'s transmitter for KLZZ is in the same building. WHMH is owned by Tri-County Broadcasting, the studios of which can be seen below in Sauk Rapids. WHMH moved to the tower below some time in 2015.
WHMH also carries HD Radio. Its sub channels are each a sister station. WHMH HD-2 is WXYG 540 AM. WHMH HD-3 is WVAL 800 AM. WHMH HD-4 is WMIN 1010 AM. It signed on the air in 1975. WHMH's bays are not visible in this picture but they're there. They are on the other side of the tower aiming south. The station has a construction permit to move back to the studio (see below) and decrease power to 40,000 watts. As of September 2015 it is clear that this move has happened.
KLZZ 103.7 is a classic rock station owned by Townsquare Media. It is a meager 9,000 watt'er from 126 meters HAAT. It's the second set of bays in the picture, facing toward the east.
KLZZ doesn't deviate much from classic rock, but it does have DJs. WHMH leans a bit harder rock, like 96.7 does. I call this format "butt rock", but most people just call it Modern Rock.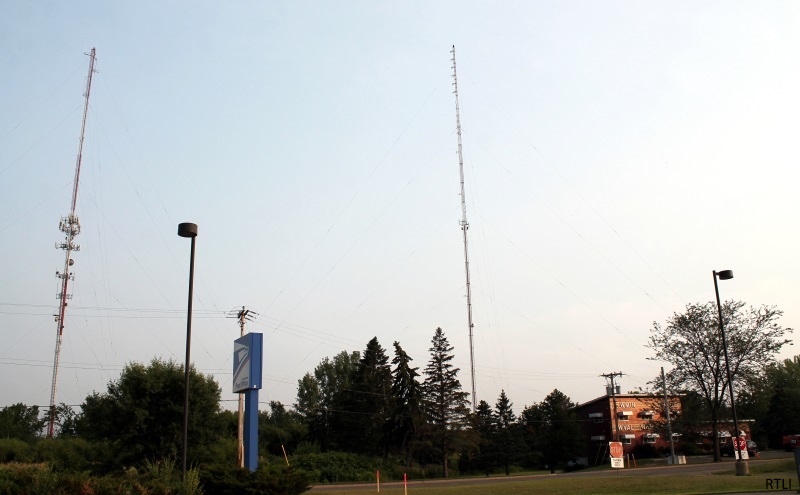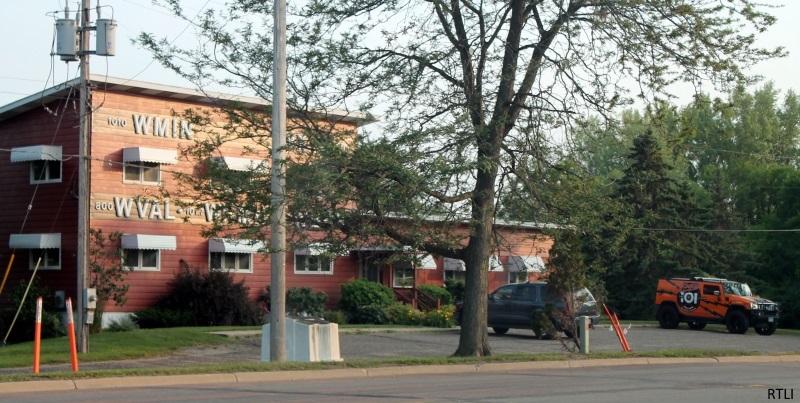 As mentioned, WHMH had a construction permit to move here, which happened in 2015. It is now coming from the set of bays on the right tower. The next locals in St. Cloud are two translators, 106.5 and 107.3. Both are translators of their AM counterparts. 106.5, or W293CS, rebroadcasts WMIN 1010 Sauk Rapids. W297BO is 107.3, rebroadcasting WXYG 540 Sauk Rapids (see the towers for both and their sisters below).
These two 250 watt'ers are licensed to Hinckley, Minnesota which is actually about 70 miles ENE of St. Cloud, north of the Twin Cities. Radio-Locator says they re-broadcast KQQL-FM Anoka, but that's just not true. Both are definitely NOT in Hinckley. I wonder why they haven't had their COL's changed yet..
This tower (the right one, not the left) is located just to the south of the studios, known as the "Big Red House". I've also had the blessing of seeing the inside of this building, though it wasn't quite the tour Leighton gave me. The studios are noticeably older, as is the building itself. That being said, there is a lot here. This is the point of origin for the following stations: 540 AM (WXYG), 660 AM (WBHR), 800 AM (WVAL), 1010 AM (WMIN), and 101.7 FM (WHMH). This makes it easily the largest cluster in the market, counting the translators. I'm thankful that someone is still invested in AM as much as these guys are. Some day, I hope to get the VIP tour Scott received. You can see the inside of the studio on his page linked at the very top of this page.
W297BO is at 311 feet HAAT. W293CS is 331 feet, HAAT. If you look close enough, you can see the STL for the AM towers we'll see in a little bit (the quadplex).
We'll now shift focus to the AM market of St. Cloud, the others that we haven't seen yet.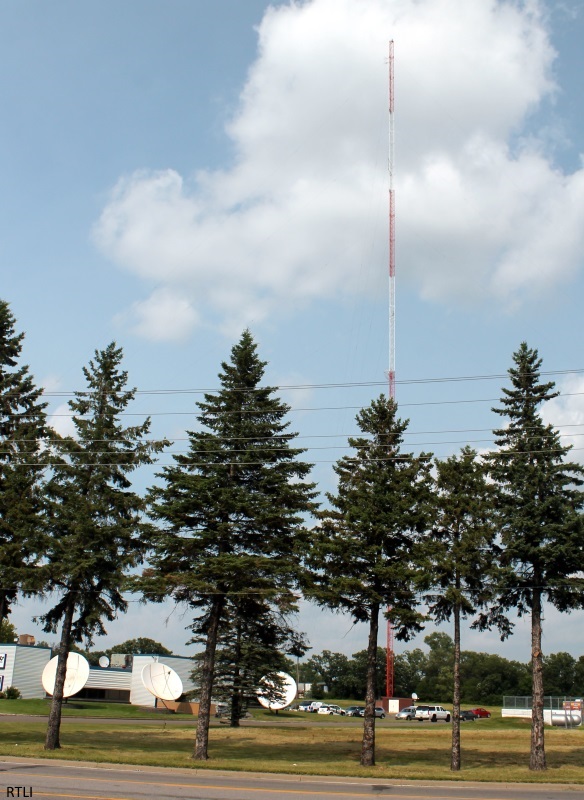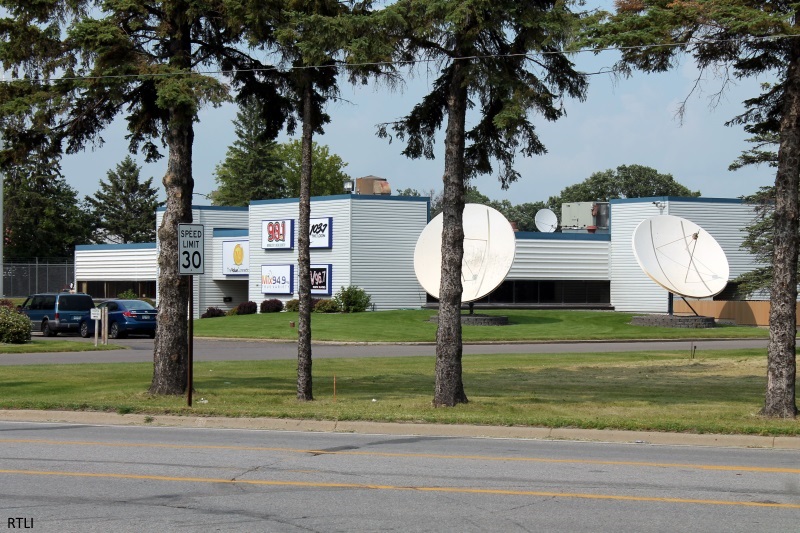 At left is 1240 AM WJON, located on St. Cloud's far east side just off of Lincoln Avenue. The studios, below the tower, are Townsquare Media. Sister stations KMXK 94.9, KZRV 96.7, WWJO 98.1, KLZZ 103.7, and KXSS 1390 AM, come from here as well. WJON is a 1,000 watt station originating in the 1950s (according to Scott Fybush).
WJON is also available on local cable in the form of a local access channel, although I can't seem to find it on my Charter lineup. The TV station airs the audio of WJON, while local St. Cloud information is displayed. WJON is one of the top competitors for news in the market. The St. Cloud Times is arguably the authority in that area, but radio and newspapers don't go hand in hand like they once did (see KNSI above). Speaking of KNSI, they're WJON's competition. WJON also carries syndicated talk programs, primarily conservative leaning. They also are a Minnesota Twins affiliate, airing the games during the season. WJON's tower is no more than half a mile from the Ubstu DX location in St. Cloud, and images (splatters) all over the dial. I wouldn't be surprised if the buildings near this tower resonate. Good luck getting anything but WJON on AM if you're near the tower. All AM towers do this by the way, even KNSI. I tested it the day I took these pictures.
At right again are Townsquare Media's studios, which is the second largest radio cluster in the market.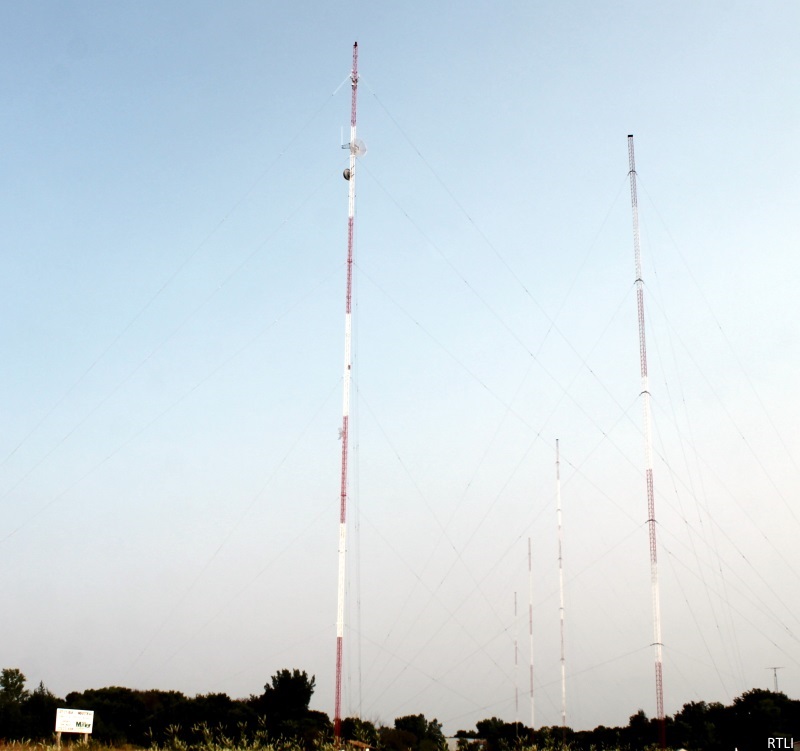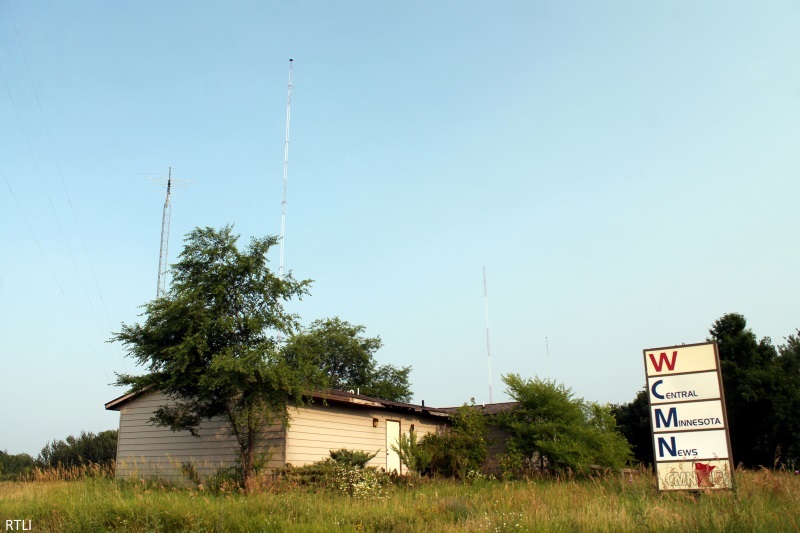 Next, we go to one of Townsquare's other AM's in the St. Cloud market, this one deep in industrial Waite Park. Waite Park, for those unfamiliar, is basically St. Cloud's west suburb. The two towns virtually blend together on most major arteries, but KXSS 1390 is well within Waite Park, its COL.
KXSS 1390 carries 2,500 watts during the day and 1,000 watts at night in a tight pattern using this five tower array. I'm not sure if all five towers are used, or if its just the four you see on the right of the picture at left. It is a sports station, with local coverage of the baseball teams as well. Sports programming is primarily syndicated. Its competition is WBHR 660 (see below), and stations from the Twin Cities. It uses four towers at night, and three during the day.
An interesting note here, the studio near the building (see right) has a sign for WCMN-TV, Channel 13, which (see the tower at the bottom of this page) is apparently a shadow of itself at one time. Scott mentions this on his site. I agree with his theory that the station attempted to do local news at one time. St. Cloud is indeed served by Twin Cities stations except KPXM, located halfway between the two cities. KPXM is an ION affiliate and carries no local news for Central Minnesota. WCMN-TV Channel 13 was a low power religious television station, broadcasting from a tower on St. Cloud's east side (it signed off in September of 2015, see below). It was still analog as of this original writing (April 2016), carrying looped programming from Les Feldick. The same RTLI reader we noted above stated that the TV station did run as an all news station for about two years. Money was poured into the station, and its transmitter (seen at the bottom of the page) was moved to its current location, with an STL (you can see in the image at left), and a studio (right photo) with then co-owned KXSS.
Something also of note for the tower at the center of the picture at left...KDDG 105.5 in Albany uses it for a relay. I'm guessing this is how they get the audio for their HD-3 transmission of the Regional Mexican station WLKX 95.9 Forest Lake, MN. Of course WCMN-LP also received the programming from the studio clear across town on that same tower.
Next: The Quadplex. FOUR AM stations using seven towers.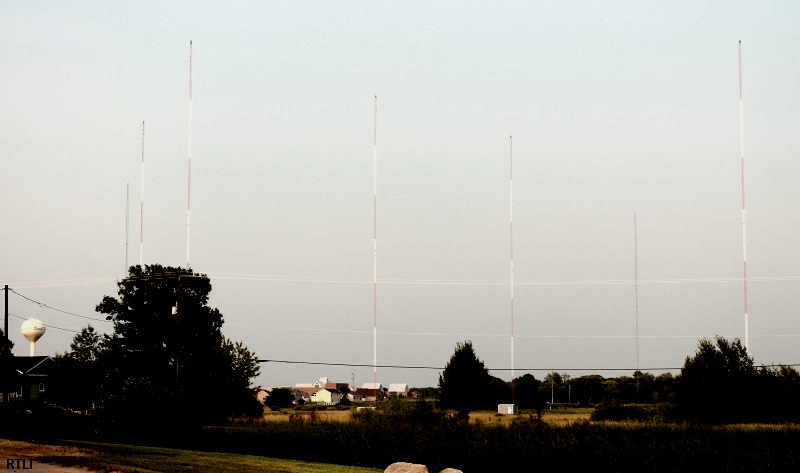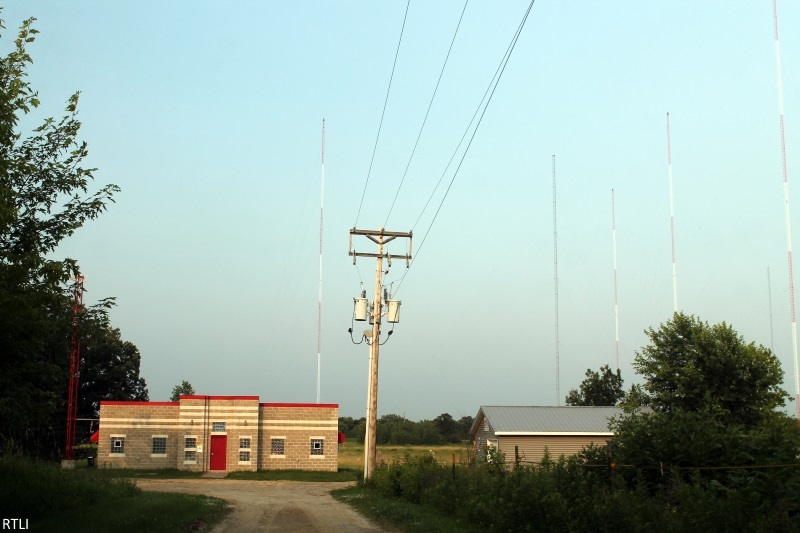 Just to the west of the Big Red House in Sauk Rapids (see above), and past a few round-a-bouts, you'll see this seven tower array. Its been said before, and I will say it again. This is nothing short of an engineering miracle. Four AM Stations, 540 WXYG, 660 WBHR, 800 WVAL, and 1010 WMIN, all come from this site. Each of the towers is directional as well, so you can imagine all of the pattern shifts. This site isn't old either. It was completed in 2013. The stations came on one at a time. WXYG dates to 2011. WMIN was added in 2008. There is a lot of information available on both Scott's site, and this one, an article in Radio World which shows how four AM stations can peacefully co-exist in one seven-tower site. WVAL moved to the current site you see at left in 1986. Prior to that they were behind the Red House studios. 660 was here before, and is one of the oldest stations in the state. WVAL signed on in 1965.
I'm in WXYG 540's null at the St. Cloud DX location two miles to the south during the day, but at night, it sounds great. The other three stations are just as clean with WVAL being especially popular among people I know. WXYG also broadcasts in AM Stereo, or at least has a stereo pilot. Since I first arrived in June of 2015, I did notice that a channel of audio was missing from the AM side of WXYG. I've been informed by their consulting engineer that this was due to a lightning strike taking out their digital studio to transmitter link (STL). He said they will be fixing it soon. In the meantime, they're using older analog STLs. WXYG is also in the process of upgrading their daytime signal to 850 watts, which should address some null issues at my home base, as well as improve coverage down to the Twin Cities. WXYG is album rock; WBHR is ESPN, WVAL is classic country, and WMIN is nostalgia.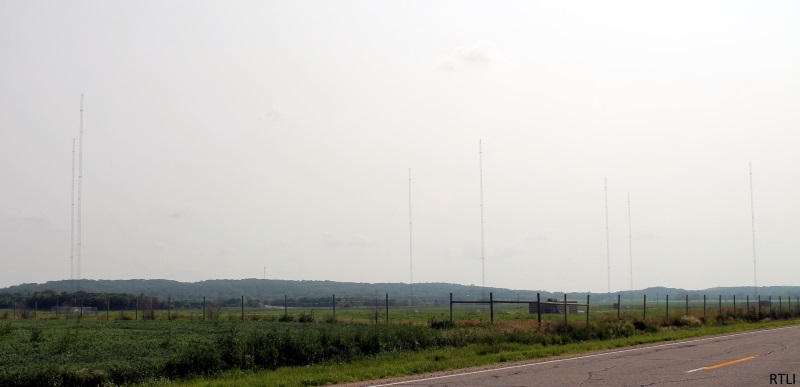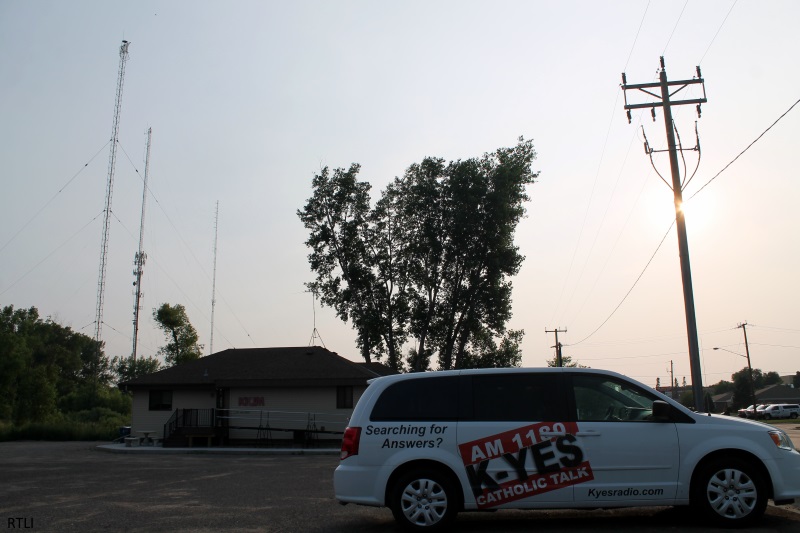 The third stop we made on the trip taking pics of St. Cloud's radio market was KYES, 1180 Rockville, Minnesota. KYES carries religious programming, primarily leaning toward the Catholic faith. KYES's studios are shared with KKJM (see pic at right) in Sauk Rapids. KYES carries a mighty 50,000 watt signal during the day, with 8,000 watts during critical hours and finally 5,000 watts at night. All of it is aimed right at St. Cloud, the primary market. There are seven towers in this picture. The site itself is about three miles north of Kimball, MN, off of Highway 15 and County Road 147. This is the farthest south station in the market if you don't count Dassel, Hutch, and other area stations nearby (which we don't). The site is about 15 miles from St. Cloud proper.
The studios are in Sauk Rapids as we mentioned. They're literally a hop, skip, and a jump from the Big Red House studios just down the street. This station, like KKJM, also has billboards around. One says: "Catholic? KYES 1180 AM". In the picture at right, you can see the STL for KKJM (farthest left tower) and the towers behind the Big Red House. The buildings and site for the transmitter look relatively new, and the towers aren't painted. Wikipedia and the FCC say it signed on in 2009.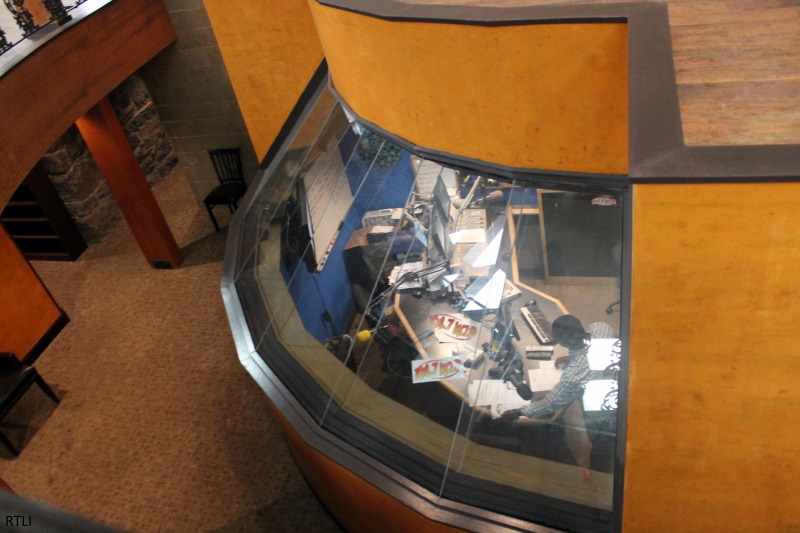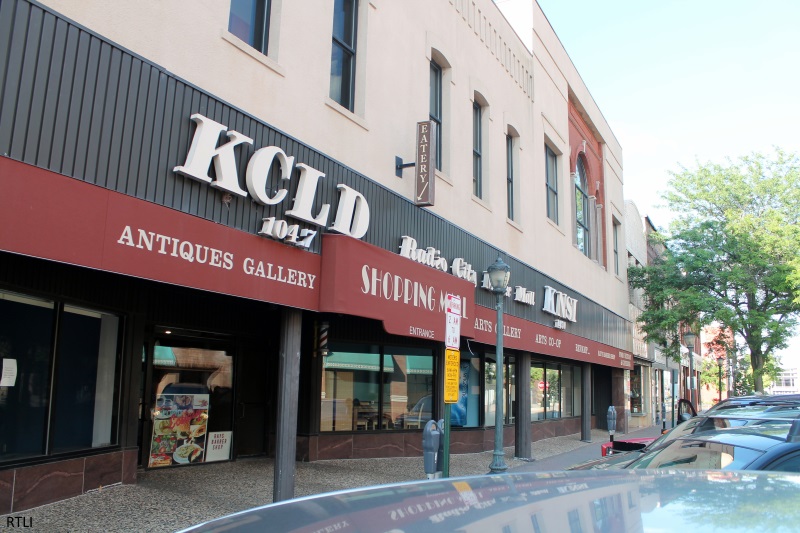 Here are the studios for Leighton Broadcasting, located in downtown St. Cloud. Coming from here are all four of Leighton's stations, KCLD 104.7, KCML 99.9, KNSI 1450 (and 103.3), and KZPK 98.9. The facility is a mall, with Leighton's stations on the bottom floor. As I mentioned earlier, I was blessed to get a VIP tour of this place earlier in 2015, as I was applying for a job there. At right you see the KCLD studio from above, because yes, you can look down on the live jock (living and breathing) in the studio. Depending on the time of day, you can see several personalities in and out of here, working to bring a really good product to air. This isn't dissing other stations in the area, it just is what it is. Leighton knows how to do radio. KNSI and KCML's studios are not visible, although they're just down the hall from KCLD/KZPK. You have your traditional conference room and production rooms down there as well. One day we may get to see these in another tour. I'll see what I can arrange. I've seen Townsquare Media's studios, but circumstances and general lack of interest will not see a tour of that place taken again. Below is the studio for KZPK with, yes, another live personality at the board. These pictures were taken at 6 pm! They're there 24/7 folks.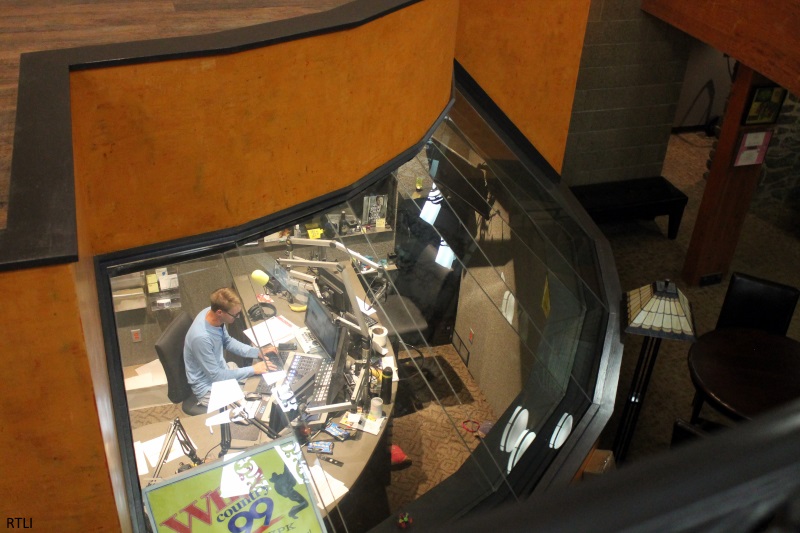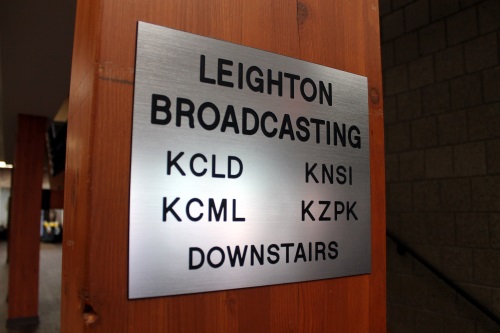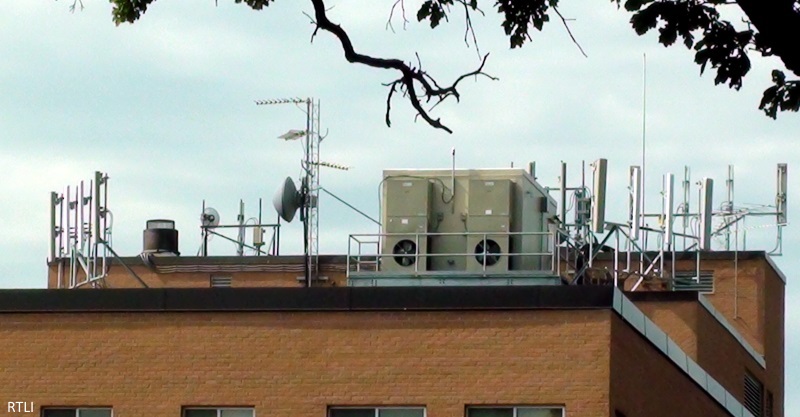 Finally, last but not least, we look at the former transmitter for WCMN-LP VHF Channel 13. Notice how I didn't say tower. See the flat yagi towers, pointing three different directions (all away from the camera)? That was the transmitter.
WCMN-LP, as we've mentioned above, was likely an attempt at providing news to St. Cloud and central Minnesota on TV, something the area doesn't have. St. Cloud is served by stations from the Twin Cities, about 60 miles to the southeast. There were no local television other than this station, and I would hardly call it local. While they did ID every half an hour (after their looping program), they had nothing local what-so-ever. The FCC says WCMN's HAAT was 32 meters, with 3KW ERP. It was located atop a senior housing center and hospital on the east side of St. Cloud, better known as St. Benedict's Senior Community. The program aired in continuous loop was Les Feldick's "Through the Bible". This program is extremely boring. I'm guessing the super religious would be interested, but I can't find myself watching it for more than a few minutes before I lose interest.
The microwave dish right below the yagis is aimed at the former receive towers in Waite Park we saw above. Why not just broadcast from the taller tower?
On September 1st, 2015, WCMN-LP left the air, likely for good as it was what was supposed to be the last day of analog television for low powered stations. What was thought to be a permanent thing turned out to be temporary. The station returned on the air sometime in early 2016, once again broadcasting the looped (and terribly boring) program with IDs every 30 minutes or so. The station tells folks to send all correspondence to an address in Ramsey, Minnesota, which is on the outskirts of the Twin Cities. Since the FCC decided not to cut low power analog stations to digital back in September, there is no saying when/if the station will ever be in digital. I can't imagine that many people watching this station. I also find it funny that the city of license mentions Sartell (It says St. Cloud-Sartell) but the coverage maps show it weak there. It probably isn't, but who's to say. I wish there was a local TV station here with local news/weather/commercials. I'd likely be working there if it had survived. There is enough news in one day to justify it here in St. Cloud, but I don't have millions of dollars to pour into a VHF TV station to find out whether it would be financially sound.
If you by chance know more about any station we have listed, or corrections, we definitely welcome input. Use the email address below and we'll add it here.
Spot an error, let me know: dxfm1019@gmail.com
Back to Minnesota
RTLI - Radio Tower Locations and Info. All images copyright Ubstudios. Some of this text comes from Wikipedia/Creative Commons, or is attributed to (hopefully) the proper sources. I make no guarantees on the absolute accuracy of this information, although I try my best to research these things before writing.