RADIO TOWER LOCATIONS AND INFORMATION
The colored states below showcase our coverage. To get started, select a state.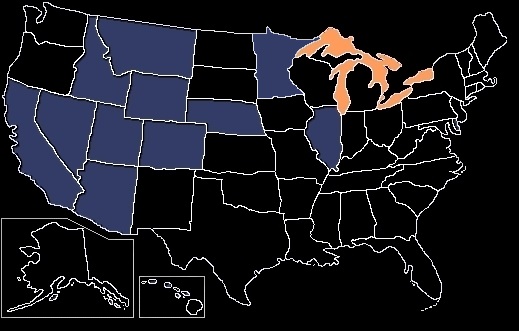 Arizona| California| Colorado| Idaho| Illinois| Minnesota| Montana| Nebraska| Nevada | Utah| Wyoming

---
Last update 11-28-17 2:30 AM CST
Thanks to our sponsors
---
THE LINKS -N- STUFF
This site is brought to you by the following websites, several emails from awesome people, and many more local contributions.
Federal Communications Commission A great help for info on everything from radio to TV.
Radio locator We often use this find radio stations anywhere.
Boston Radio Archives New England area radio tower locations and pictures.
Other Utah Coverage At&t microwave sites from around the state.
Click here for the tower site of the week, and check out the archives. This page is pretty cool!
---
*** - UBSTUDIOS Pledges that no advertisements will ever appear in popup form on this or any other www.ubstudios.com site. We do not condone popup advertisement and it is the main reason we moved to a new domain in the first place. Angelfire was horrible about advertisements, we will never do this. If you do receive a popup while surfing this site, you may have spyware on your computer. We recommend downloading a free copy of Adaware SE. This link will take you to download.com an outside source. We are not responsible for the content of outside links.