Princeton, MN RTLI coverage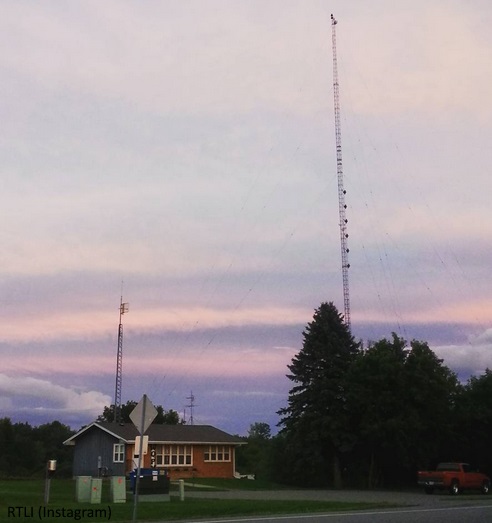 Some towns in Minnesota have one station, some have two. Some have three, including Princeton, Minnesota, which is northwest of the Twin Cities, and east of St. Cloud. The town lies (mostly) in Mille Lacs County, and a portion of Sherburne County. It's population was just shy of 5,000 people as of the 2010 census. Next to the major highway that runs north/south (Highway 169), lies the studios for WQPM 1300, and its translator on 103.3 K277AS. The station has an oldies format. Its sister stations are KLCI 106.1 Elk River, the tower of which is in Albertville. It is also a sister to KDDG 105.5 Albany, MN which is quite a distance away in Stearns County.

WQPM is 1,000 watts during the day, and 83 at night. It is weak to the west in St. Cloud. The translator on 103.3 is 150 watts from 302 feet, which doesn't mimic the AM side coverage-wise. WQPM signed on in 1967. The tanslator's antenna is at the top of the tower (single bay). By the way, that STL dish you see comes from Albertville, southwest of the tower. This likely is the primary feed for WQPM from the sister station's studios. I'm not sure if KPCS or WQPM actually use the studio below the tower. KPCS I would assume is fed through a satellite dish.

Also from this tower, about halfway down is the 40,000 watt religious station KPCS 89.7. KPCS is owned by Pensacola Christian College, and is both a contemporary christian and traditional religious talker. Being halfway down the tower at 139 feet limits how far those 40,000 watts go, and the station is very weak in St. Cloud to the west. It is the six bays. The station's format, Rejoice Radio, is heard on dozens upon dozens of other stations around the U.S.

This photo was taken around sunset in August of 2015 and was posted to Instagram by myself. I've run it through a few filters to make it look better.

Head west to St. Cloud.

Back to Minnesota

RTLI - Radio Tower Locations and Info. All images copyright Ubstudios. Some of this text comes from Wikipedia/Creative Commons, or is attributed to (hopefully) the proper sources. I make no guarantees on the absolute accuracy of this information, although I try my best to research these things before writing.