Arden Hills/Shoreview Towers north of Minneapolis/St. Paul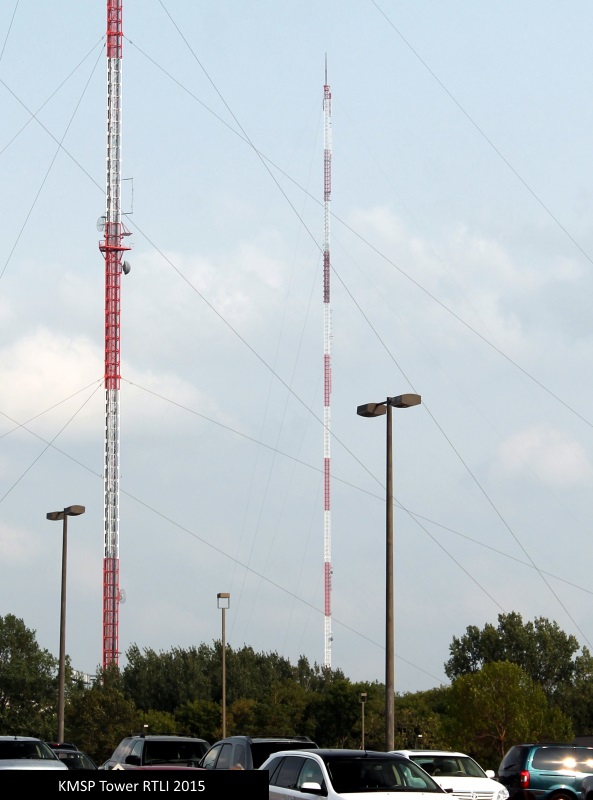 Several miles north of downtown St. Paul, and the same distance northeast of downtown Minneapolis lies the Shoreview and Arden Hills tower farms. There are four predominant towers here, which contain the vast majority of Minneapolis' high powered FM and TV stations. Other towers are on the IDS Center downtown Minneapolis, and elsewhere across the metro.
We'll first start at Shoreview, which is in the north end of the metro. The two towers seen at left are what is known as the Telefarm Towers. They are owned by a consortum made up of WCCO-TV, KSTP-TV, KARE 11. All three of the stations, WCCO on 32, KSTP on 35, and KARE on 11 broadcast from these towers.
In the 1970s, most of the stations had towers elsewhere, including the IDS Center. Interference, multipath, and other issues necessitated the construction of the towers, originally a candelabra type. That tower collapsed in 1971, killing seven people. The towers were upgraded again in the early 2000s, to accomadate for the digital transition in 2009. This included an increase in height. Work on one of the towers, the larger of the two at 1,438 feet, finished in 2001. The second tower, two feet shorter, was completed in 2000.
The following FM stations broadcast from these two towers:
KNOW 91.1 MPR
KSTP 94.5 Top 40
KTMY 107.1 Talk

The TV stations here include:
WCCO (RF 32)
KSTP (RF 35)
KARE (RF 11)
WUCW (RF 23)
KSTC (RF 45)
and a construction permit for Ion affiliate KPXM (RF 40)
Look just past the Telefarm Towers to the east and you'll see the KMSP tower (pictured right), which as you guessed it, houses KMSP-TV (RF 9). The remainder of the high power FMs from the area are here. This tower is a bit higher than its counterparts to thte west at 1,466 feet. It was built in 1971. In the late 80s, the FMs started moving here. In 2001, a painter fell to his death from this tower.
The remaining TV stations for the Twin Cities market that are on the KMSP tower include: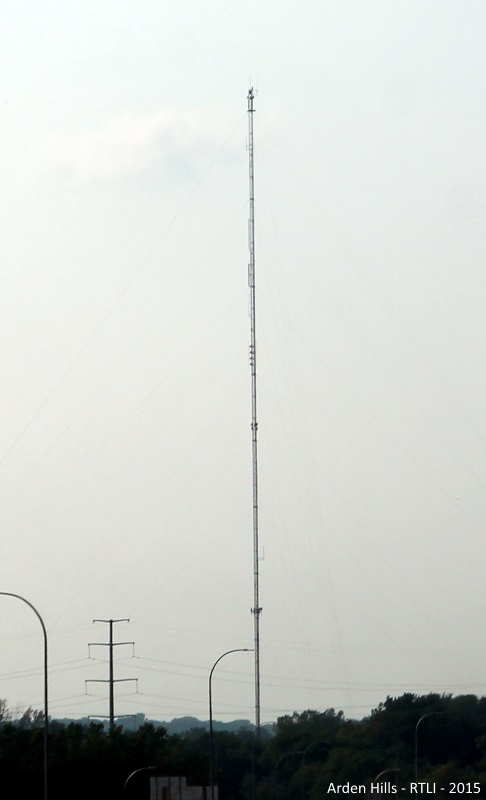 KMSP (RF 9)
KTCA (RF 34)
KTCI (RF 22)
WFTC (RF 29)
There are more FMs here than at Telefarm:
KQRS 92.5 Classic Rock
KXXR 93.7 Rock
KTCZ 97.1 Hot AC
KTIS 98.5 Religious
KSJN 99.5 Classical
KFXN 100.3 Sports
KDWB 101.3 Top 40
KEEY 102.1 Country
KMNB 102.9 Country
KZJK 104.1 Jack FM


The final significant tower in the area is known as the Arden Hills Tower. This tower is about 1.8 miles from the Telefarm towers. As you can see about halfway down the tower (right), there are a set of FM bays. These belong to KMOJ 89.9, broadcasting in HD. KMOJ is known as "The People's Station" and carries an urban contemporary format. It is at about 394 feet HAAT. 6,200 watts covers the metro fairly well, with the suburbs getting distant and fringe coverage. There are two applications for low powered FMs from this tower. One is on 94.9, the other 107.5.
Several low powered TV stations come from here as well, occupying the top portion of the tower. KTCJ-LD (RF 50) is owned by EICB East, which usually carries religious programming from Cornerstone TV. Its antenna is at 1,383 feet.
WDMI-LD (RF 31) is up higher, at 1,425 feet. It is owned by Word of God Fellowship, with Daystar is its primary network. This station has been received in St. Cloud, Minnesota, about 58 miles to the WNW.
Next is KHVM-LD (RF 48), is at 1,359 feet, is also owned by EICB East. The network is Global Christian Network.
All three of these stations are at 15,000 watts, the max allowed for low powered DTV stations.
That wraps up what is here on the north side of the Twin Cities.

To see other areas in Minnesota we cover, go to the Minnesota page.
To go back to RTLI click here.
To see these sites covered by Scott Fybush, click here (outside link).

RTLI - Radio Tower Locations and Info. All images copyright Ubstudios. Some of this text comes from Wikipedia/Creative Commons, or is attributed to (hopefully) the proper sources. I make no guarantees on the absolute accuracy of this information, although I try my best to research these things before writing.