Sheridan County Complete RTLI Coverage
Note, this page is fairly large, please give it time to load...
Quick Jump to Story, WY (KIX 96.5, 98.3 The Peak)
RED GRADE ROAD TOWER SITES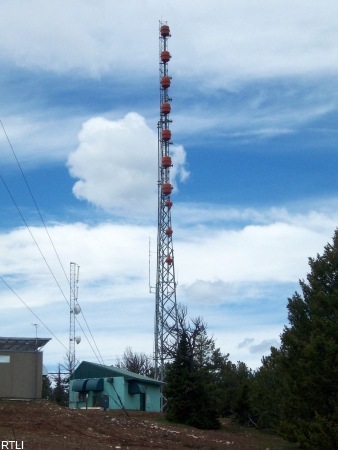 This is the "main" FM tower on Red Grade Road, which is located roughly 14 miles southwest of Sheridan proper. The following radio stations are known to broadcast from this tower. I will refer to it as the Sheridan Media tower from here on out:
KYTI - 93.7 Country (HD) - Sheridan Media
KZWY - 94.9 Rock (HD) - Sheridan Media
K240DW - 95.9 Loop Hole AC - Sheridan Media (Same as KLQQ 104.9 HD-2)
KLQQ -104.9 Top 40 (HD) - Sheridan Media
K290BL - 105.9 Loop Hole Oldies - Sheridan Media (Same as KZWY HD-2)
KSHW-LP - Franken FM Sports - Sheridan Media (formerly heard on KYTI-HD2 but standalone)

Most, if not all radios can receive 87.7. I recall several low and some high powered TV stations taking advantage of this back before the 2009 digital transition. As of early 2012, the application for channel 6 was deleted and then replaced with an LP. Someone should have remembered that the FCC isn't accepting applications for analog television stations any longer. Doh! In 2015, kicking or screaming, this station will have to go digital which will negate the purpose of the Franken FM in the first place.
Sheridan Media already owns 9 stations (if you count translators), so why not go around the FCC again (the translators are using a loophole to be two completely new stations with their own programming), and bust the ownership cap. Everybody wants to rule the world I guess. Is there even an ownership cap any longer, or can any bozo create a monopoly?
I digress... its a nice organized tower though. Immediately to the left in the picture is a WAN TV Tower, broadcasting content to Sheridan somewhere between 2.5 and 2.7 GHz, according to the sign on the door. I read somewhere online that WAN TV is a content provider of some type. Whatever programming they provide beats the.. you know what out of me. There are a number of satellite dishes behind the shack for television. Anyone know what WAN TV is? Get a hold of me and explain. :)

We move on to probably the most predominant tower on the mountain. It is located directly south of the Sheridan Media tower.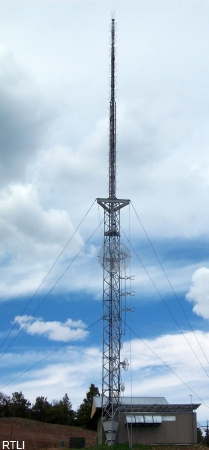 This is the taller of the two towers at the Red Grade Site. It serves a number of purposes as far as broadcasting.
Here is the complete list of stations carried from this tower...
KHRW 92.7 FM - Classic Hits - Legend Communications (Big Horn Mountain Radio Network). 92.7's studios are in Sheridan. Sister stations 98-3 the Peak (KZZS), Kix 96-5 (KLGT), and KBBS 1450 AM all come from Buffalo. KHRW 92.7 FM is a classic hits radio station branded "92.7 The Eagle." It signed on its signal in April of 2011, however shortly thereafter fell silent again, due to technical difficulties up on the mountain. It officially signed on for good in 2012.

KHRW's effective radiated power is 2,300 watts, however given its location, covers as far north as just south of Billings, Montana. Folks in Gillette, Wyoming regularly report receiving the station.
The Eagle is a part of the Big Horn Mountain Radio Network. All four stations are ultimately a part of the largest radio station network in the state of Wyoming (Legend Communications) which owns 18 stations total.
KSGW-TV (RF 13) Channel 12 via PSIP.
KSGW is a full power television station. It is a satellite of KOTA in Rapid City and features programming and news from KOTA, however some of it is locally produced. That local content includes weather forecasts, and the news often has Sheridan/Northeastern Wyoming stories. In fact, KSGW has a local reporter who goes out and captures video, so it can be aired locally. I also am aware that KSGW has a local "studio" if you want to call it that, in the Sheridan Commercial Park, located near the I-90 Interchange on Brundage. KSGW signed on from this location in 1977.
Other programming obviously originates in Rapid City, SD nearly 200 miles distant. KOTA calls its coverage area "KOTA Territory". KSGW is the easiest to receive at my DX location in Sheridan. It broadcasts 50kw of power with a CP for 75kw. The station has 2 other sub channels... MeTV on DT-2 and ThisTV on DT-3. KSGW DT-1 carries high definition programming from ABC, as well as SD/etc.

There are more towers up at the Red Grade site, some of which I do not have pictures of, but will explain for information purposes.
Near the tower pictured below, there are receiving antennas, (likely formerly) used to pick up the off the air signal (OTA) of KTVQ Billings, MT. The signal received is then fed to the translator station K09XK-D.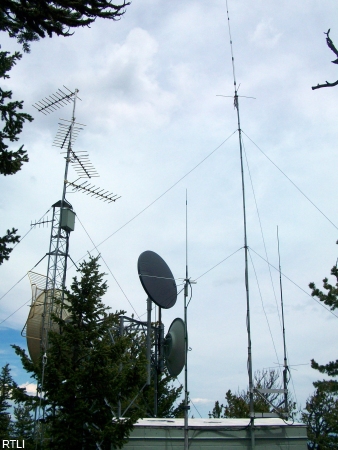 This transmitter shack carries an assortment of towers that likely couldn't find space on or were not allowed space on the other two towers above. An FM station comes from one of the towers located here. It is KPRQ 88.1 FM - Yellowstone Public Radio (from Montana) - Montana State University Billings.
I believe the tallest tower at right and possibly the two verticals beside it are amateur radio towers. The tower we are focusing on is the farthest left. I am referring to the one with yagis (flat antennas with a lot of elements) pointing in four different directions.
This is television translator K09XK-D. (RF 9) (PSIP 2). Programming for K09XK-D originates from KTVQ Billings, Montana. The station is a CBS affiliate. It has one sub channel, KTVQ-2, which is Montana's CW network. K09XK-D used to be K07HK prior to the digital transition.

Channel 9 does not air local programming like KSGW, and is often weaker to receive at my location. I had gone through at least 3 antennas, none of which seem to produce a stable digital signal from the station. That is until 2012 when I installed an RCA yagi intended for outdoors in my apartment. The station is relatively stable now.
The station broadcasts 2.29 Kw, which likely explains the weakness at my location. Why they chose VHF for digital broadcasts at that low of power is beyond me. I also blame my DX location, which doesn't allow outdoor antennas... and RFI from apartment dwellers around me. VHF is not the place for a low power digital station, plain and simple.

SHERIDAN MEDIA'S TOWER OF (insert adjective or favorite word here)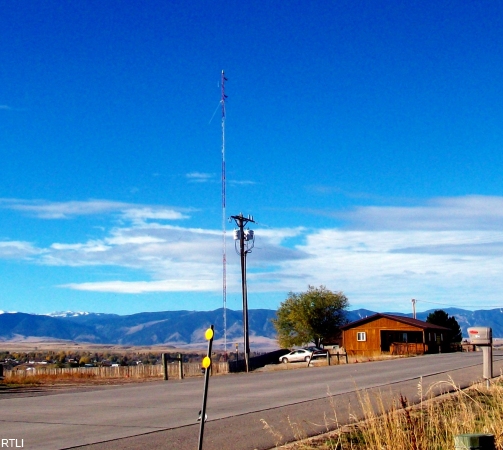 By now if you've been reading this you may have sensed some animosity toward Sheridan Media. I have good reasons, but for the sake of integrity to RTLI, and the one future person who reads this page, I will keep my remaining comments to myself for the time being, and focus on the task at hand, showing you towers, and describing what broadcasts originate from them.
This tower carries four stations. I'm not kidding.
KROE 930 AM - Conservative Talk - Sheridan Media
KWYO 1410 AM - Classic Country - Sheridan Media
KOHR 88.9 FM - Religious - Your Network of Praise
KVLZ 89.9 FM - Religious - K-LOVE
Yes, four stations... two AM's, two FM's.
That's some mighty insulation, especially since KROE and KWYO are both 5kw AM's.
Both AM stations have to drastically reduce their power at night, to protect other stations on the respective frequencies.

For several months prior to June 2011, KVLZ was bleeding onto 88.3. A call to their friendly engineering staff saw the problem repaired in less than two weeks.
KOHR meanwhile, bleeds onto 90.3 giving me several false positives when Es (Sporadic E-skip) rolls into town.


Continue south of town to see the mountain where KSUW 91.3, KIX 96.5 (KLGT), 98.3 The Peak (KZZS), broadcast from.
The opinions on this site are solely my own. They do not represent the opinions of anyone/any company or anyone else. The opinions also do not represent those of Ubstudios.com.