Southern Sheridan County/Story Wyoming RTLI Coverage
Note images on this site are large, and may take a while to load on a slow connection.
KLGT (Kix 96.5), KZZS (Peak 98.3) and a translator.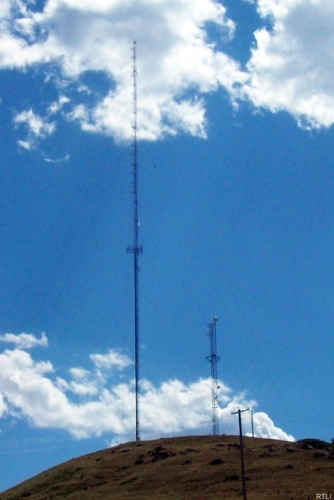 The tower pictured at left broadcasts two of Northeastern Wyoming's most powerful FM stations, both owned and operated by the Big Horn Mountain Radio Network, which is one of three radio groups of Legend Communications of Wyoming LLC. The other two groups are in Gillette and Cody/Worland.

There is a lot of history here. The tower was first located on the mountain directly northwest of where it currently sits, where a present tower exists for KSUW 91.3, along with KWCF 89.3, and K210AM 89.9 FM.
According to some hearsay, the residents of Story complained about the tower at that location, so it was moved down from that location to its present location.
Originally KIX 96.5 (KLGT) was KIX 92.9. The dial position was changed in early 2011 to accommodate KHRW 92.7 to sign on.

KIX 96.5 is a country station, broadcasting 100,000 watts from the top bays of the tower at left. Its signal is so massive, it can be heard south of Billings, Montana, and as far east as Moorcoft, Wyoming. Directly to the west sits the Bighorn Mountain range, which blocks most of the signal from traveling any distance that direction. To the south, at times, the station can be heard as far south as Kaycee, Wyoming. As recent as August of 2011, a test was done on Casper Mountain, south of Casper and about 100+ miles from Buffalo. Both KLGT and KZZS were loud and clear up on the mountain, whereas Sheridan stations coming from Red Grade were not audible.
KZZS (98.3 the Peak) broadcasts from bays directly underneath KLGT's. Its coverage area is nearly identical to that of 96.5. 98.3 the Peak is hot adult contemporary and top 40.

Below the two higher power stations, on the same tower is a low powered translator known as K292DZ. Its two bays sit directly above the halfway mark of the tower (the cell phone cells) as seen at left. It broadcasts on 106.3 FM and carries a religious format from KSLT, which originates in Spearfish, South Dakota.
The signal of 106.3 has been noted to be very weak to non-existent at times. As of this writing, the station appears to be off air.
This page was last edited September 9, 2011.