Rawlins is a town in south central Wyoming with a popuation of 8,538 people as of the 2000 census. It has two radio stations and two television stations (that we have pictures of :D)
KRAL 1240 AM is a peculiar station. It has struggled in recent years to maintain its on air status and as of this writing, is off air citing technical difficulties. From Wikipedia: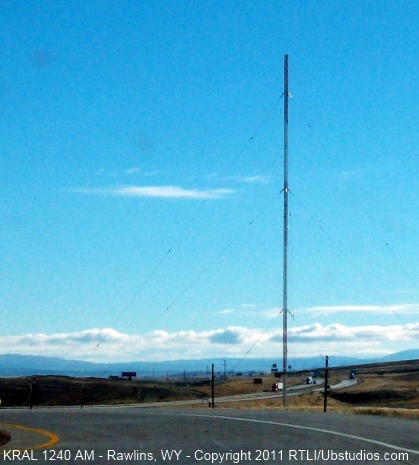 It was developed in the 1950's under the supervision of William D. "Bill" McCraken, a Wyoming radio and television pioneer. The station, as of July 2010, was silent, while its sister FM counterpart remains on air. Rawlins is no longer served by an AM station, besides a travelers information station on 1610. The station did apply for and was granted a renewal of its license in 2005, however citing technical reasons in July 2010, the station remains silent. The period in which KRAL has, until it fixes its "technical" problems and restores broadcasting expires July 19, 2011. It is unknown if the station would be sufficiently able to return to air due to fines and equipment problems. If the station does not return to air by that date and notifies the FCC, the license will be returned to the FCC. Rawlins would be left with only KIQZ as its only true local radio station.
KRAL's 1,000 watt signal covered western Carbon County and was very weak in Sweetwater County directly to the west. The station was barely audible to the north and east of Rawlins without a good radio or car stereo. KRAL's transmitter is located next to Interstate 80 on the western side of Rawlins.
Since the station's change of ownership from "Elk Mountain Broadcasting" to current owner "Mount Rushmore Broadcasting", KRAL and its sister station, KIQZ (FM 92.7) have been fined by the FCC many times. Most recent penalties include a $20,000 fine for "failing to maintain the operational readiness of the EAS (Emergency Readiness System) equipment (see FCC Rules/11.35(a)), as well as other equipment issues and violations and failure to maintain a complete public records file."
Sources connected to the FCC say that more and significantly higher fines/penalties are forthcoming. They continue by stating that any station owned or operated by Mt. Rushmore Broadcasting will "not likely" have their licenses renewed once they expire, due to the history of "past violations and cavalier attitude(s) towards following and maintaining" rules and regulations, and that this and other Mt. Rushmore stations could have their broadcasting rights taken away "at almost any moment."

KIQZ 92.7 FM is in roughly the same predicament as KRAL is as they are both owned and operated by Mount Rushmore Broadcasting. Both stations were listed in the record to be fined for EAS and other violations and its a wonder the stations continue to operate. When KRAL was on the air, it was simulcasting the FM signal which comes from Rawlins Hill, seen above. Rawlins Hill is directly south of town, and while it provides elevation, it doesn't allow KIQZ and the TV stations as well, to get out far distances. In fact, both KRAL and KIQZ's coverage areas are pretty similar, as both struggle to reach the Sweetwater Conuty line outside of town. KRAL was likely not operating at 1,000 watts as it was (is) licensed to, and the same goes for KIQZ's 3,000 watts. One editor on Wikipedia believes the station is actually operating at 100 watts.
KIQZ is a satellite fed station, carrying a hot adult contemporary format, and aside from a few translators and distant stations, is the only local FM coming from Rawlins.
As far as television is concerned in Rawlins, the two licensed stations I have pictures of are above. Prior to the 2009 digital transition in the United States, there were a number of analog translators serving the city, some from the same towers up on Rawlins Hill now. The two stations above are the only ones with licensed status on Rawlins Hill. There are a few other digital translators (as far as I know) coming from other towers in the area, which we do not have pictures of.
KFNR is a satellite repeater of KLWY, Cheyenne's FOX affiliate. It is licensed at just under 1kw of power on VHF channel 9. KFNR went on the air on April 16, 1985 and has a HAAT of only 51 meters. Although KFNR is near the same location as KIQZ-FM, its coverage map is a tad bit larger, and according to the FCC, can be received as far west as Wamsutter, in Sweetwater County. KFNR was previously known as KRWY at its sign on in 1985.
The other television station is a translator of the Wyoming Public television network. It relays programming from KCWC in Riverton.