Copyright 2004 Dorky Head Productions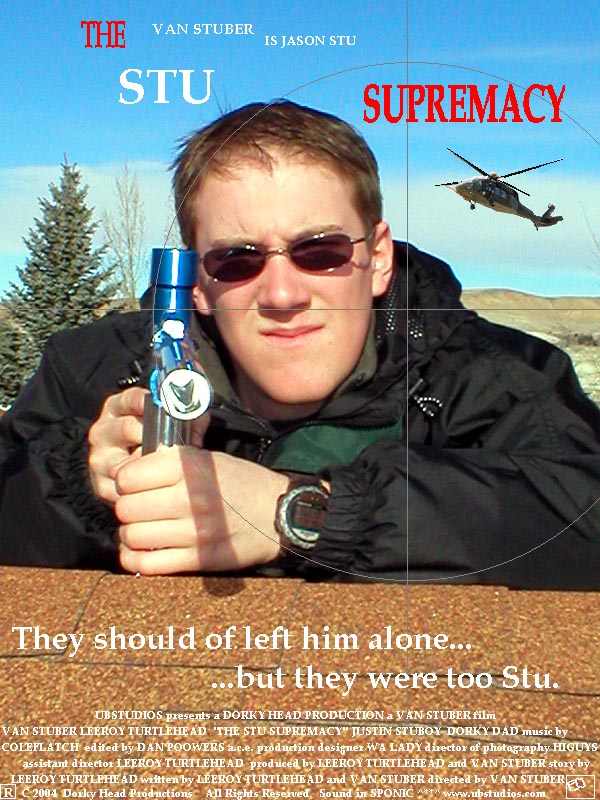 Premise
Jason Stu is about to get a raw deal. As an Agent for the CIA, he is known to be the best of the best. Whether fighting terrorist in Iran, hunting down tourist (as ordered by George W. Bush) on the beaches of Casa Blanca, or courting Knock Out Asian chicks in Japan, Agent Jason Stu does it all. That is, until a call from Vladimir sends him to Russia to pick up a mysterious vial that contains Small Pox. Stu quickly realizes that he has been screwed by the CIA and Vladimir after he finds out the vial is fake. Now, with no one to trust and everyone after him, Agent Stu must penetrate the CIA and hunt down Vladimir in the Caucasus Mountains before he himself is arrested or gunned down. Its an intense race against time with car chases, foot chases, and a nasty rash creating one of the best DORKY HEAD movie to date.
Short Reviews
I guess they actually had a script for this one. Hell, it sure shows. Best movie since The Bourne Stupremacy
Leeroy Turtlehead does an excellent job as the ruthless Vladimir. I hope he wins the Oscar, Golden Globe, or Peoples Choice. Better yet, he should win the Golden KO award.
The lights went out, the movie theater went dark, and the next thing I knew, I was buck naked in a Lord of The Rings film and Frodo and Sam were chasing after me.