Squelch
Copyright 2005 Wilkins Peak Studios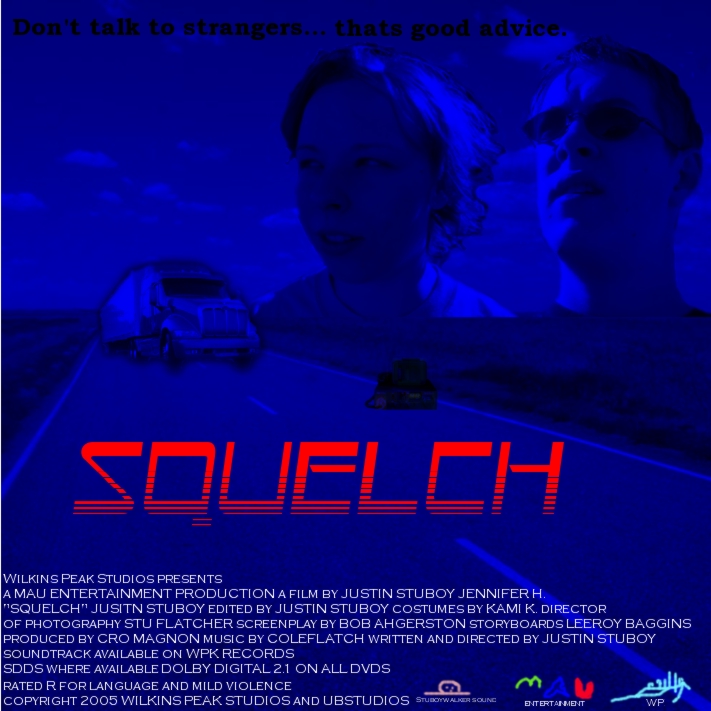 Premise:
Sean (Stuboy) works for the highway department and hates his job, Renee (Jennifer H.), his girlfriend longs to see him more often but he is always away at his job. Sean decides to quit his job and take Renee on the vacation of her dreams and hopefully patch things up, that is until Renee notices Sean's CB radio and the two start having a little fun with the truckers. Everything seems fine and dandy until the joke goes too far, and the chase is on. Its a race across the country and this trucker will stop at nothing. Filmed on location in several places in the Midwest including Chicago and the Field of Dreams film site in Dyersville Iowa. Color 2005 Wilkins Peak Studios - Rated R for language and a milo that seems out of place plus constant yawning. 21 Minutes long. Now available on DVD.
Contains new special effects from Milonca Studios and improved editing. Sound was created at Stuboywalker Studios, Salt Lake County, Utah.
Click here to download the (4 mb) DVD preview for this film. WMV format. You will need Windows Media player or equivalent to play this file.
Preview is now online!