Spring Vacation 2
Copyright 2005 Wilkins Peak Studios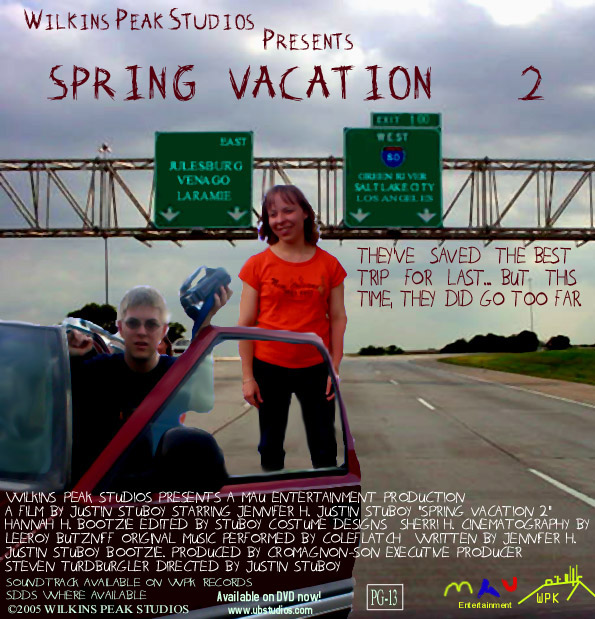 Synopsis
By Freddie Farz Jr.
By now you should be familiar with the cast of the original Spring Vacation film. All of the members of that one are back for another go around at a completely different Spring Vacation experience. All new places have been visited, all new hobbies have been found out, and even a new tree house was erected during filming. Don't forget the gala! New cast members join the Ubstudios team this time around from Wah Lady to Jennifer H's family, oh no! Filled with new enhanced special effects (seriously, there are special effects in this film) and a some what chronologic filming method, Spring Vacation 2 has been called "better than the first" (Buthesda Cobblebottom - Flagstaff Daily Sulfur Dioxide Press). You won't be disappointed by this film either.
The film has been released on DVD format making this a first for any film to come out of Ubstudios. The film received rave reviews from people at ACE Hardware in G.R. It's special effects are cutting edge material for a Ubstudios film. Check it out today.
Rated PG-13 for Language, Alcohol Consumption (Gala scenes), and general flatulence
Available on DVD now!
SEE THE DVD PREVIEW (3.5 MB) You'll need Windows Media Player for this clip to work.