Spring Vacation
Copyright 2004 Wilkins Peak Studios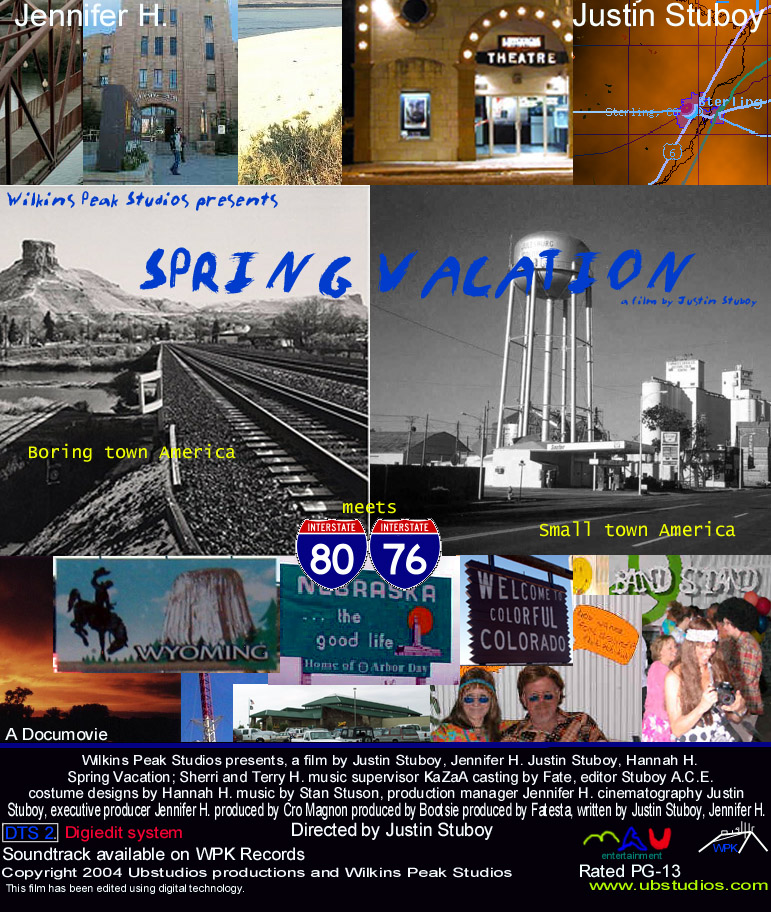 Synopsis
By Freddie Farz Jr.
Do you remember your first Spring Break in college? Was it a super fun, yet scary experience at the same time? For two college students destined by fate to meet, this Spring Break will be one they will never forget. Staring veteran actor Justin W. (Er, Stuboy) and newcomer Jennifer H. this film follows the pair from meeting each other's parents, to exploring places they've never been before, to dances that you can get disco-ey at. This film is a documovie, which means the people and places in the film itself, are real. There was no script, no crew member, just two people and a camera. Following the success of Stuboy's "A Trip of Chicago" comes this movie, which according to stinky critics, is much better than any documovie before.
This movie was filmed basically in chronologic order and provides dates, times, and locations to tell you when it is and where you are. This is something that started with "A Trip of Chicago" but it has matured in this film. Although this film was edited on a different system then TOC, it still is no different when it comes to solid film making. This film is a recommend, especially for love birds, because it'll bring you closer, like it brought Stuboy and Jennifer together (even though it didn't last to make SV3!. This film has already been screened by a few dozen viewers and everyone likes it, across the board. Go see this film, you wont be disappointed.
Rated PG-13 for Language, Alcohol Consumption (Gala scenes), and stupidity while skiing.
Widescreen, where available. This film has also been formatted to fit your screen, even though it may not seem that way!