That Time in Mesquite
Copyright 2010 Wilkins Peak Studios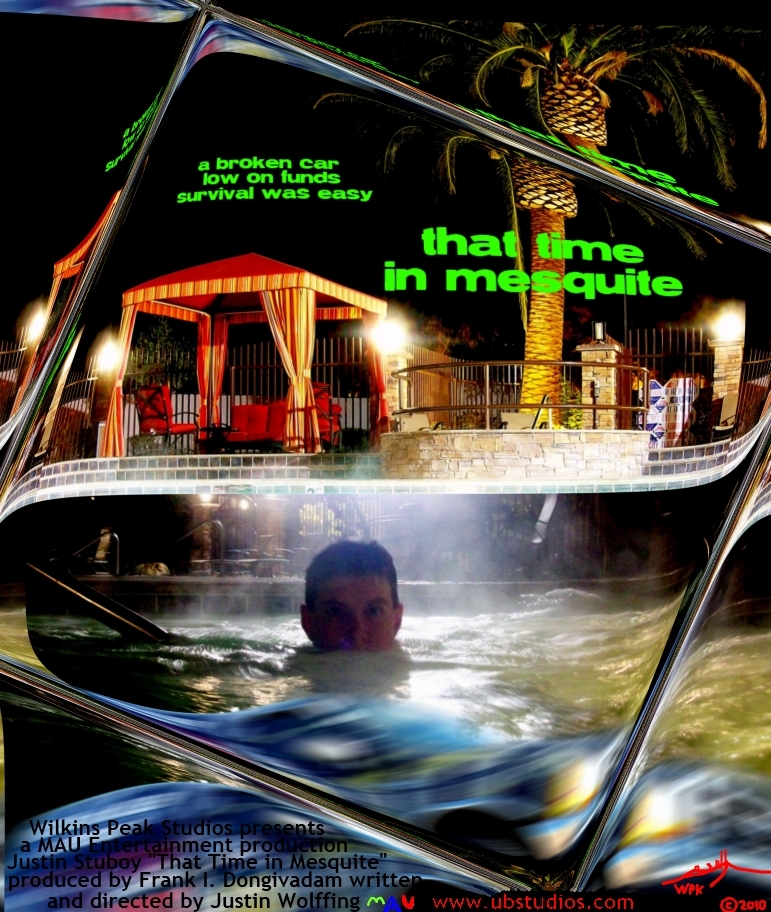 Synopsis:
Stu never figured he would ever get to take a long trip with a company vehicle. He always figured one of the other employees would get lucky and go first. Not this time. A surprise mini-vacation ends up in his lap, and even though it may be work related, it is still a vacation. The destination: sunny Mesquite, Nevada.
But Stu has no idea what is in store for him. With the job finished and an extra day to play around, Stu decides to take the company vehicle to a place he had only ever seen one time before in his life, Hoover Dam. Alas, fate has something different in store and the company vehicle that brought him down there falls apart just outside of town. Now with no vehicle and limited money, Stu has to make his way through two more days and survive boredom, loneliness, and a dying cell phone.
One thing is for sure, survival was easy, That Time in Mesquite.
Cast: Justin Stuboy; Cameron Diaz (dream sequence); Donny Glaversh; Frank N Beens; Allen Mickerson; Michael Handy; Bob Tom; Kenny Loggins (why I don't know).
Rated PG-13 for language and nudity.
Filmed on location in Mesquite, NV; Bunkerville, NV; St. George, Utah; Fillmore, Utah, and Salt Lake City, Utah.
-PREVIEW COMING SOON-
Fast and Furious Reviews:
Only Napolean Dynamite had a more boring existance - Thomas Butrest "Mesquite Times"
That buffet food made me hurl up my sour patch kids - Roper Ebert - "UCBG Movies"
What a nightmare vacation, I would have a hard time surviving that - Norbert Sherbert "Flatch @ The Theater"
I never want to buy a Ford F Series truck ever after seen this film, and thats a good thing - Doug Tony Bunt "St. George Poo Examiner"
Back to Wilkins Peak Studios