Manuters Series
---
Copyright 1999-2000 Wpk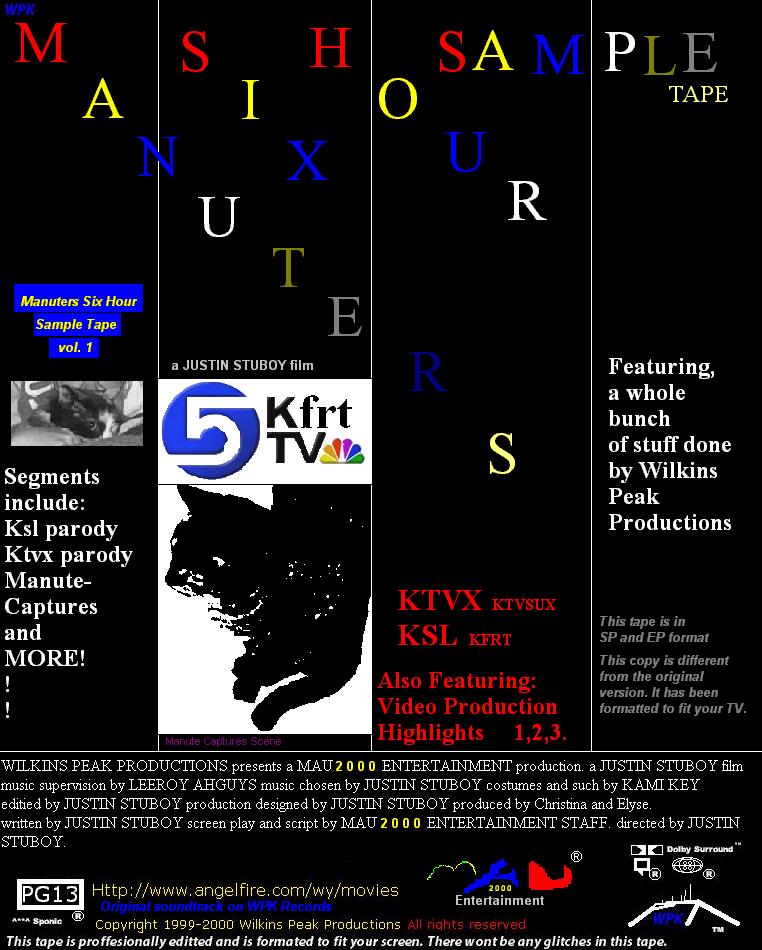 A 2hr tape with all the stuff done by Wpk. Currently has Video Production Highlights part 1, Launch Of Kitcat satilite 11, Kite Cam (B/W), Manute Captures (B/W), Fireworks part 1, VPH 3 trailer (B/W) Scary sounds part 1,the KSL news Parody (KFRT), Gas Prices feature, Video Productions Highlights part 2, WP Explorer Part 1, and a Index of terms and their meanings. There are a lot more features on this tape now, but I dont have the space to list them on. Note these are in the order that they appear on the tape. Look for the highly anticipated sequel almost finished!!
NOTE: If your VCR is EP compatable, You get the special edition, which includes Thunder Bolt and a few other segments.
---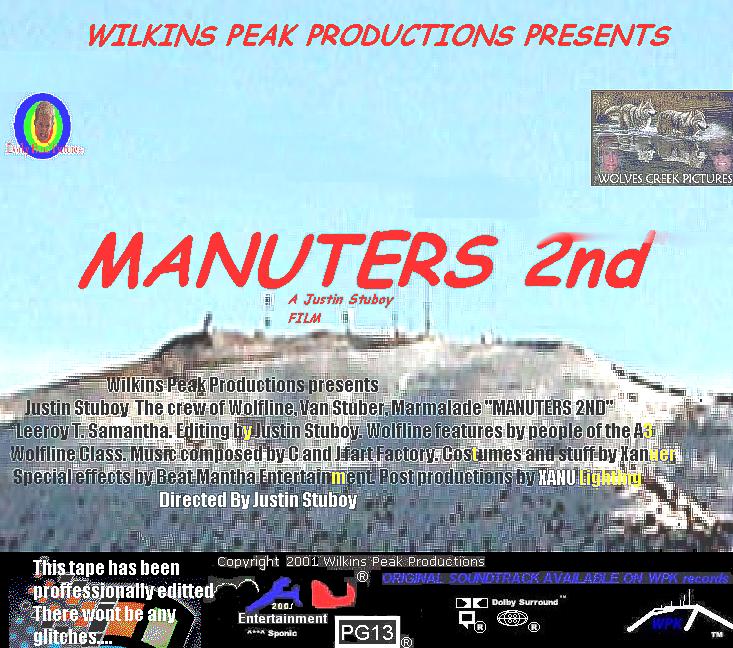 So whats this new movie Manuters 2nd about? well, did you see the first one? It is kind of like that. But with more knowlege of the editing stations behind my belt, I decided to leave the EP part of the first Manuters to have something else than a continuation of the tape. Yea I know, you want to know about the movie, but theres not much to talk about. All I know, is that this one is expected to be not as slow as the first one, and it promises more KO action then in the first one. I can only tell you a little about the movie, because it hasnt even reached the half way mark. This one has a killer soundtrack, better graphics, better ideas, and best of all, more KO shots. The list of available features currently on the tape goes like this...The beginning credits of course, The Very Stupid Journey (the longest claymation in the history of WPK,) Wolfline January, Back to Casper, and Wolfline February. This list will be updated when info becomes available. Rated PG-13 for some brief language and a KO shot. Color (NOT FINISHED YET) Late 2000 to 2001. Look for the (expected) sequel to this feature out around the same time next year. Dank u!