Dark Forest
Dark Forest, Copyright (C) 2000 Galactica Pictures.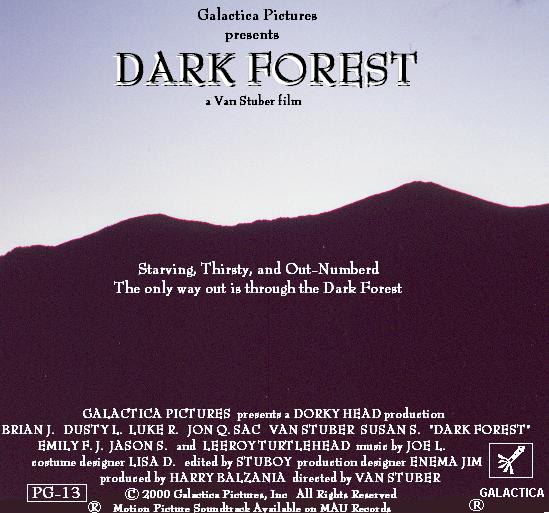 Galactica's most wildest picture yet. The story centers around 3 "good" Boy Scouts on a camping trip in the wilderness of Southern Canada. While on their trip that is supposed to be a bonding experience, things start going wrong when they become lost and start to run low on food and clean water. Starving, cold and tensions growing, things escalate between the bully scouts and the Scout leaders to a fight and a murder that leads the 3 "good" Scouts on a wild race back to civilization. The 3 must battle the rest of the troop, wild animals, and Mother Nature to get to saftey, but first, they have to survive the Dark Forest. Rated PG-13 for some violence,language, and adult content. No animals were harmed in the filming of this movie. Except a mantha.
Cool Thriller about a bunch of Boy Scouts Beating eachother up and Beating a Mantha In the Wilderness
This is why I didn't join the Boy Scouts
On my Honor, I will do my Duty to Stink up this theater as bad as possible.