Platte County RTLI Coverage
We start our coverage of Platte County in the north, with a hill known as Pine Ridge. Pine Ridge is located at 42° 20' 47" N,  105° 02' 04" W. It holds one TV and one FM station.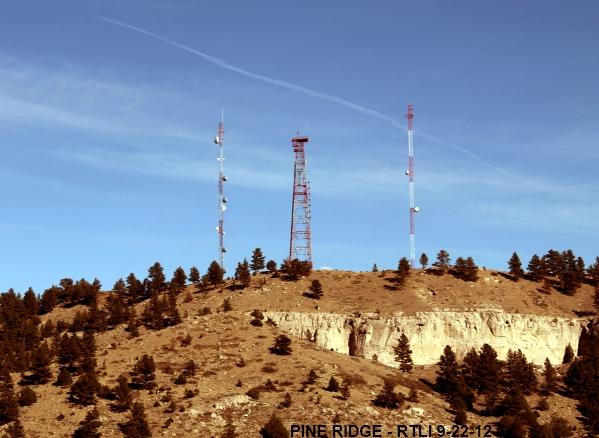 Pine Ridge is home to KANT-FM 104.1. KANT is licensed to Gurnsey, WY (17 miles east of the hill). It carries an adult hits music format, and it's signal made it into Cheyenne, and Douglas with no problems. The station has a construction permit which would lower its 36kw ERP to 18kw. From Wikipedia:
This station received its original construction permit from the Federal Communications Commission on April 21, 2005. The new station was assigned the KANT by the FCC on May 1, 2005. KANT received its license to cover from the FCC on March 28, 2008. In January 2009, White Park Broadcasting, Inc., reached an agreement to sell this station to the Brahmin Broadcasting Corporation. The deal was approved by the FCC on February 18, 2009, and the transaction was consummated on February 24, 2009. Effective August 17, 2012, KANT was sold to Chisholm Trail Broadcasting LLC in exchange for Chisholm's KKAW. On August 20, 2012, KANT shifted their format from classic hits to adult hits. It's bay antennas can be clearly seen on the center tower, pointing right (south) toward Wheatland.

The tower at right, on top of serving two way needs, carries K21HQ-D Channel 21, licensed to Glendo, Wyoming. The station carries PBS programming from KCWC Riverton, WY.

WHEATLAND
We now head south from Pine Ridge to Wheatland. There are two FM translator stations here I neglected to get pictures of, K298AY (107.5 FM), an affiliate of Pilgrim Radio from KCSP in Casper, WY. The other translator, K224DT (92.7 FM) is rebroadcasting AM sister KYCN (pictured below). Its studios (also below) are at 450 Cole Street.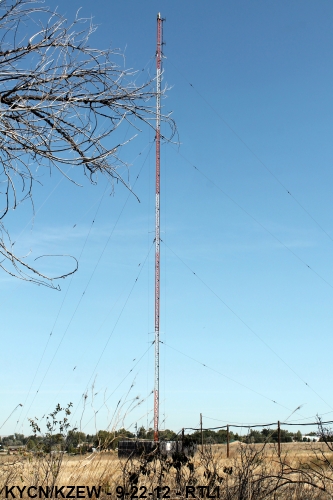 KYCN and it's translator on 92.7 carry a country music format. KYCN is a graveyarder on 1340, but it puts out a decent signal that can be heard from Douglas to a bit south of Chugwater. You would think a station on 1340 would broadcast 1,000 watts. KYCN is a 250-watt'er, which is the same amount of ERP it's translator shares.
Also on this tower (at top) is KZEW, 101.7 FM. KZEW (3,000 watts) is sandwiched in between 101.3 from Bridgeport, NE, 60 miles away (KOZY-FM) and 101.9 from Cheyenne, 66 miles away (KIGN). The station went on the air as KYCN-FM on November 15, 1984. On September 4, 1998, the station changed its call sign to the current KZEW.
KYCN and KZEW (along with the translator mentioned above) are owned by Smith Broadcasting, whose studio is below the KYCN tower (pictured)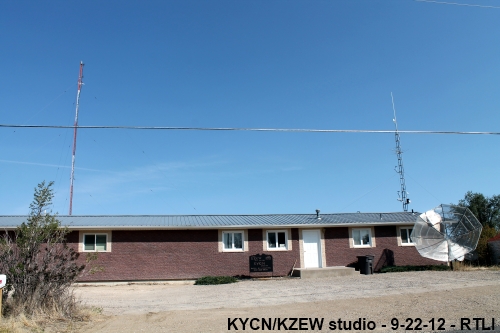 ---
CHUGWATER
Continuing south from Wheatland, eventually you'll go through Chugwater, Wyoming.
Above Chugwater to the north on a ridge are the numerous towers pictured below.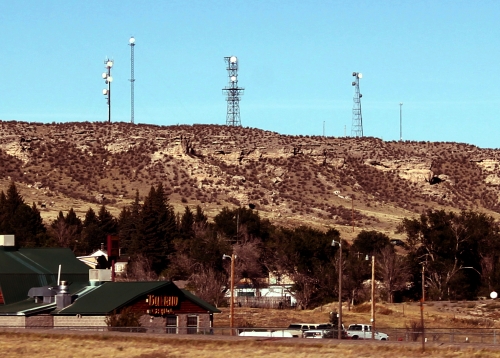 An FM station is up here, KRQU-FM. Those calls once belonged to a rocker in Laramie, Wyoming not too long ago. According to Wikipedia: The station was assigned the call letters KCUG on March 23, 2005. On April 5, 2006, the station changed its call sign to KWHO, on September 12, 2006, back to KCUG, on September 30, 2008, to KMJY, and on July 19, 2010, to KAAZ, and on April 6, 2011, to the current KRQU.

KRQU 99.5, carries an oldies format. It broadcasts from the farthest left tower in this picture.
The tower at center carries two television stations, K12QG (Channel 12 analog), Wyoming PBS. It's digital counterpart on channel 16, K16IO-D comes from the short tower 3rd from right. K16IO-D (900 watts) also carries Wyoming PBS. Both stations receive their programming from KWYP (VHF-8) out of Laramie, WY. It is unknown if K12QG has gone silent. Do you know? Shoot us an email using the address listed below. Each tower is less than a mile north of Chugwater proper.

Microwave dishes on these towers beam PBS programming to northern Platte County. From that rural location, programming is beamed to towers near Torrington.
That programming comes directly from KWYP on Pilot Hill, east of Laramie.
That's pretty much it for Platte County. I am missing a few pictures of translators and television translators. Have pictures? Spot incorrect information? Let me know dxfm1019 at gmail.com - remove the at and spaces.

Back to Wyoming RTLI Coverage!