Converse County AM/FM/TV RTLI Coverage
Converse County is located in east-central Wyoming. As of 2010, the population was 13,833.
Douglas AM/FM/TV
We start out with the FM/TV tower farm, southeast of Douglas near I-25.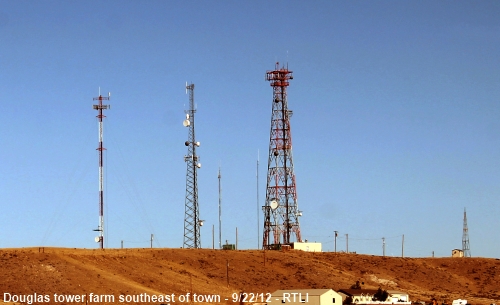 KDUW 91.7 - NPR - Two bays facing the camera on third largest tower from left. It is the only FM station up here (currently). Higher power commercial FM stations in Douglas are in two different locations, each of which we do not have pictures of.
A television station also comes from this hill. K29JO-D (Channel 29) carries programming from KCWC in Riverton. It is a PBS translator station.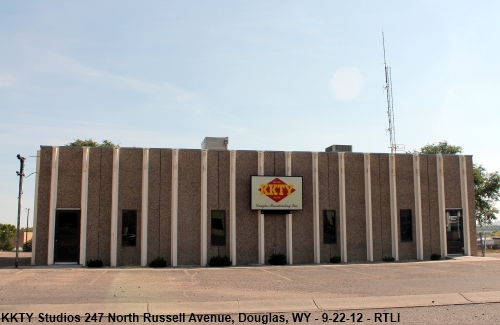 This is KKTY (AM and FM) studios at 247 North Russell Avenue in Douglas. The tower carries two microwave dishes. One points east to hit KKTY-FM 100.1 (Country), about 9 miles west of town behind a hill. The other tower points southwest to the transmitter site for KKTS 99.3 (Hot AC) which is near WYO 91, and broadcasts with only 810 watts. We do not have pictures of KKTY-FM or KKTS-FM. The tower on the studio also carries 150 watt translator K227BU 93.3. It re-broadcasts programming heard on sister AM station KKTY-AM 1470 (below)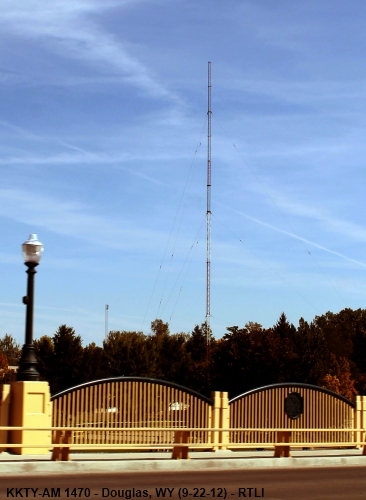 We'll conclude our tour of Converse County with a picture of a central wyoming blowtorch, KKTY-AM on 1470. The station signed on as KWIV - Douglas in June 1957. KWIV originally broadcast as a 250-watt daytimer on 1050AM. The station was assigned the call sign KKTY on May 1, 1992. September 1, 1992, the station changed its call sign to KWOG and on December 2, 1993, the station reverted to KKTY. The tower is located right across the street from the Wyoming State Fairgrounds, a popular attraction. It is easily accessible off of West Grant Street. Even though KKTY's daytime power is 1,000 watts, the station was heard in Cheyenne on a recent trip, and can also be heard as far north as Sheridan during the day. At night it's 500 watt signal gets eaten by other 1470s across the country. KKTY as of September 2012, carried an oldies format. It can be heard on FM translator K227BU 93.3 (pictured above). An interesting note: KKTY shares the same network affiliation as KOAQ 690, Terrytown, NE. Both are within each other's listening distance (with a good radio during the day).
Have pictures? See something incorrect? Let me know! (email dxfm1019 at gmail.com) - remove at, replace with @ and remove spaces. Thanks! You will get credit!
Back to Wyoming RTLI coverage!