The FMs of Chicago, four main towers.
It is a well known fact that 90% of Chicago FM, TV, and Cellular are broadcast off of sky scrapers. The best known of these sky scrapers is the Sears Tower.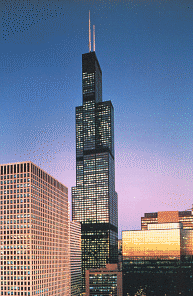 Sears Tower also holds a lot of Chicago's local communications such as the trunked police/fire/emergency freqs. All of Chicago's TV stations have DTV space from here. It is unknown exactly which or how many FM bays are in the two towers. If anyone has any info or a list of what is up there feel free to email me.

A second popular broadcasting spot is the John Hancock Building.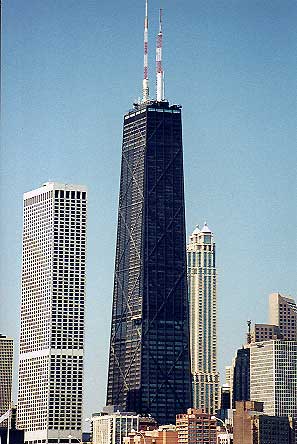 Eight Major Television stations and 12 FMs come from the twin 390 foot tall towers on the top. Over 100 two-way radio systems operate from the rooftop antenna grid, and over 50 microwave systems provide signal reception from all sorts of businesses. I believe that there are also celluar bays on the bottom.

There are hundreds of other skyscrapers in Chicago that include some form of radio transmitter.