KGAB - 650 AM and KLEN 106.3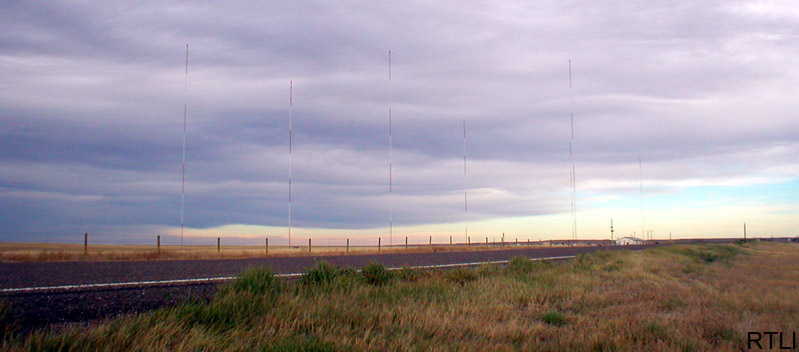 This impressive tower farm is quite a few miles south of Cheyenne.
The three largest of the towers are news/talk KGAB 650 AM. KGAB is licensed to Orchard Valley, Wyoming, a suburb of Cheyenne. The four other towers in this picture are not in use, and were from a relic frequency in the Cheyenne area on 1300 kHz. Three of these other towers are no longer standing. This picture was taken between 2004 and 2005. Added after this photo was taken was KLEN-FM, transmitting from the far tower closest to the building. KLEN is on 106.3 FM, and carries a Country music format. According to Radio-Locator, KLEN's antenna is 253 feet above ground level. If Wikipedia can be trusted, KLEN signed on in 1983 and is owned by Townsquare Media. Two other Cheyenne FM stations transmit from a tower east of town off of HR Ranch Road (below the next photo). This article was updated in 2012 thanks to an email from the engineer who works at this site often. A big thanks for the corrections/info!
Below is a Google Streetview snapshot of the tower farm as it appears today: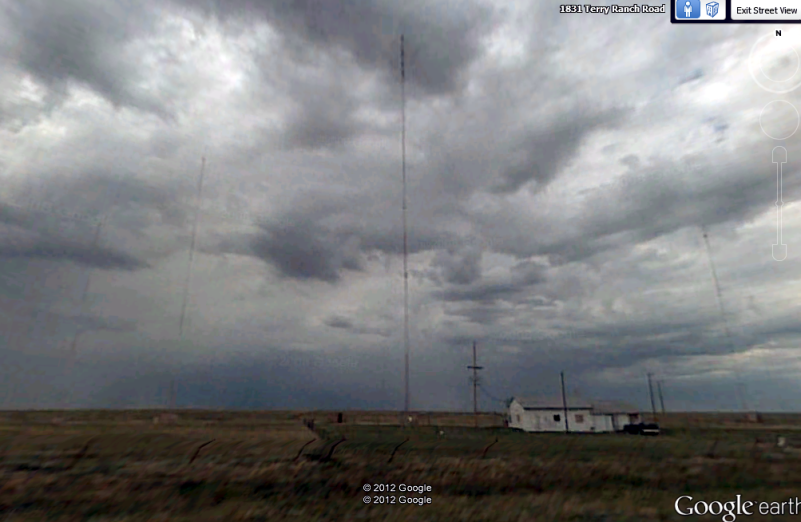 ---
KRRR 104.9 and KAZY 93.7's small tower 5.8 miles east of Cheyenne.
KRRR 104.9 is an oldies station, broadcasting at 25,500 watts ERP. Due to its lower height above ground level, the station does not cover quite as far an area as other Cheyenne radio stations. It has been oldies as far back as I can remember (at least 2003). The station went on the air as KZCY on June 1, 1997. On April 1, 2002, the station changed its call sign to the current KRRR.
KAZY 93.7 is a rock station (one of many in Cheyenne), that broadcasts with 25,000 watts ERP. It's coverage is nearly identical to sister KRRR.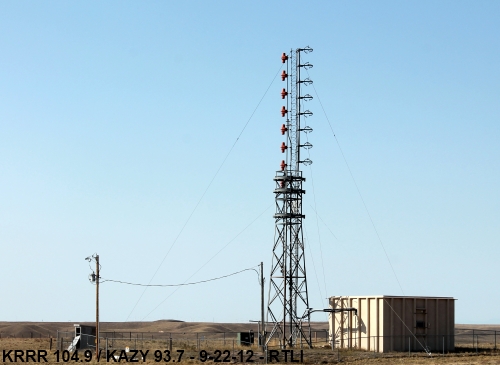 From this tower, we can look southeast to see another rocker KIGN. KIGN ("King FM") has been a rocker, again, as long as I can remember. The station was assigned the call sign KMUS-FM on July 13, 1990. On June 3, 2002, the station changed its call sign to the current KIGN. The station is licensed to Burns, Wyoming, about 16 miles from its transmitter. It is owned by Townsquare Media, who also owns KLEN-FM (106.3) and KGAB (650 AM pictured above). KIGN broadcasts 50,000 watts ERP, covering almost all of Laramie County.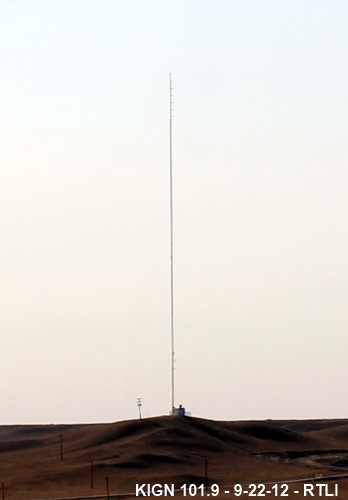 ---
KFBC 1240 AM Cheyenne. FCC DATA
The tower above also carries KRAE 1480 AM
KFBC is the flagship station of the state wide Cowboy State News Network. KFBC also carries Fox Sports, ABC News, and Northern Ag Network programming. It's primary format is news/talk, but it also carries sports. KFBC is 700 watts day and night.

KRAE is the ESPN Radio affiliate for Cheyenne. It is 1,000 watts day, 65 watts night. Signing on at most in 1985, (exact date unknown) until October 2006, the station carried a classic country format. After October 2006, KRAE began broadcasting ESPN Radio. The station has long been the only Cheyenne radio station to broadcast Denver Nuggets basketball and Colorado Avalanche hockey games during their respective seasons, says Wikipedia.

---
Eastward from the KFBC/KRAE site...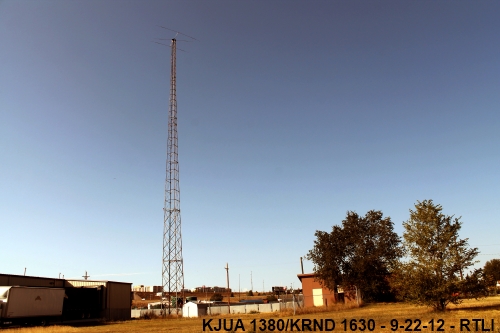 KJUA 1380 AM Cheyenne.
KRND 1630 AM Cheyenne.
This is an unusual AM tower, as it is smaller than most, and is diplexed with two stations. It also has what I believe is a capacitance hat at the top (though it looks like a yagi).
KJUA airs a hip-hop format, the only such in Wyoming, while KRND airs regional mexican. 1630's signal has been reported in many western US states. KJUA on the other hand, barely makes it around Cheyenne. The day I took the pictures you see above and below, KJUA was likely stuck on it's night power (8 watts) as I could barely hear it no more than five miles from the transmitter. KRND's transmitter building (with La Familia Broadcasting written on the door) can be viewed below. The microwave link on the center tower receives program from the studios downtown. KRND was formerly a Country music station, with KKWY as it's call letters. Wikipedia says KRND signed on in 1997.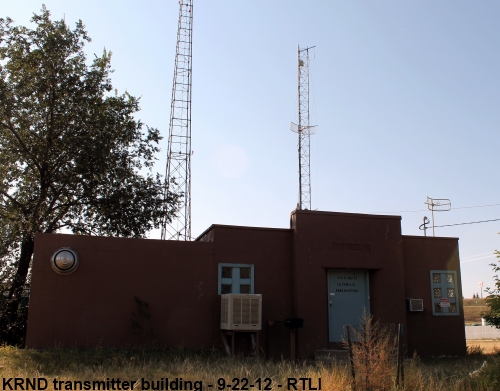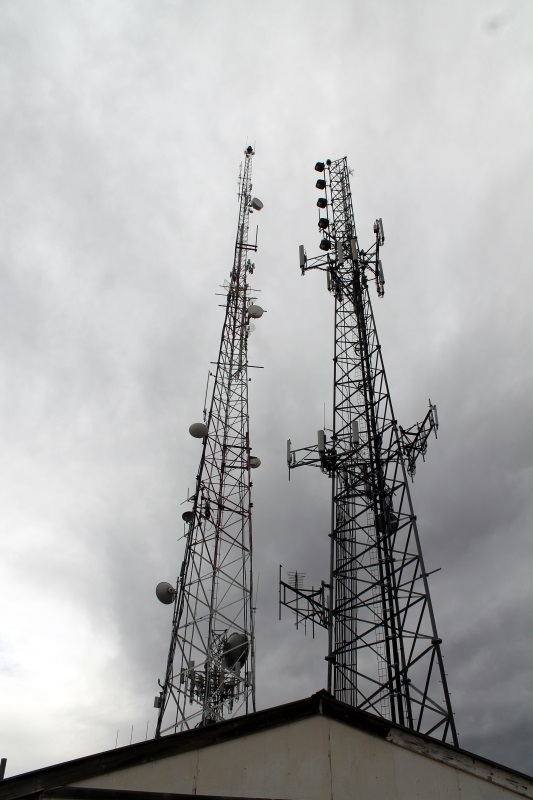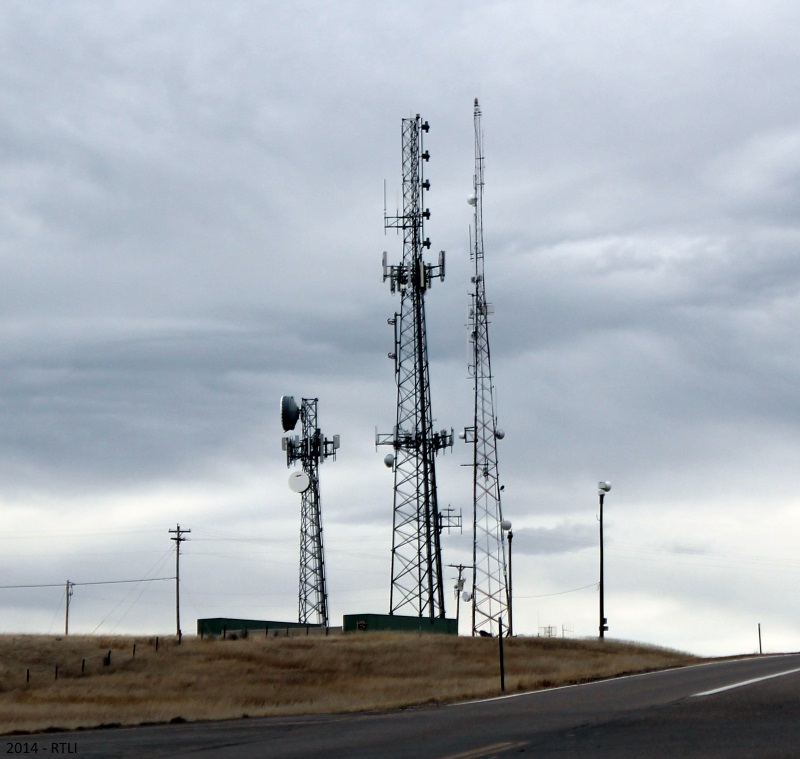 On the far east side of Cheyenne, lies the following two towers. Each are relatively short, likely under 300 feet. The tower at right with the bays at top is a KRAN-FM, carrying a country music format on 103.3 FM. It is licensed to Warren Airforce Base, which is on the opposite side of town. It carries 37,000 watts from only 78 meters, which doesn't give it the greatest coverage, but the metro and few surrounding miles receive it well.
On the left tower about 1/4 of the way down, KAIX 88.1 FM can be found. It carries 1,800 watts of ERP from 207 feet. KAIX is a religious station, owned by Educational Media Foundation, or EMF. This makes it an Air1 affiliate.
The are two translators on these towers as well, K281BW 104.1, which is a K-Love affiliate. It broadcasts a whopping 120 watts from 69 feet. This makes it the two bays just above the dish on the left tower near the bottom.
The final translator, K296FZ is how KYOY-FM is heard in Cheyenne. It is on 107.1 FM. KYOY is an 80s rock format station. K296FZ is 250 watts from 148 feet, the two bays halfway down the right tower (below the cellular antennas).
Also from these two towers comes analog KCHY-LP, Channel 13. 3,000 watts of power comes from the antenna, bringing Casper's KCWY NBC to Cheyenne. Cheyenne doesn't have much in the way of full power TV stations, most of them are south in Denver. Like its parent station in Casper, KCHY is owned by Gray Television.
Also from this tower farm is low-power digital KGSC-LD, channel 47. The 4.58 kwer is owned by The Spirit of the Lord Ministries, indicating its programming type.
Also, K36JO-D, RF 36, is Cheyenne's PBS translator. KWYP in Laramie, serves the market as well, but from a much farther distance to the west. It, like the other Wyoming Public Media (PBS) stations are owned by Central Wyoming College.
---
The next set of towers are west of town.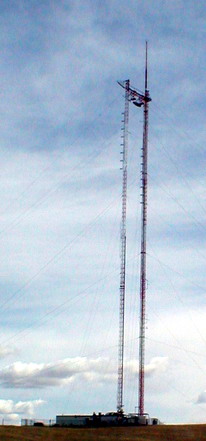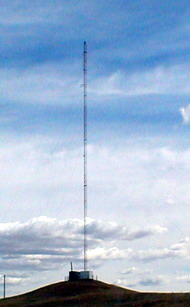 Description.....There are two antennas in this picture. One is for Verizon Wireless Cellular. One FM station broadcasts from this site, KXBG-FM 97.9 MHz. KGWN (30 UHF/5 PSIP) broadcasts from this tower as well. KXBG is a 100,000 watt station. This picture was taken betten 2003 and 2005. Several FMs that were here have since moved to other locations. KXBG is at 351 feet above ground level. KGWN TV is 387 feet above ground level, broadcasting 459 kw ERP.
KDNR-FM 88.7 FM above right. Also K234AH, 94.7 FM. KDNR is licensed to South Greeley, Wyoming. It broadcasts with 500 watts (CP to 1,000) and is an affiliate of Pilgrim Radio. K234AH rebroadcasts audio from KRAE-AM. The station is listed at 92 watts, which from this tower, barely reaches Cheyenne with city-grade coverage. The translator sits at 79 feet above ground level. KDNR is a little higher up the tower, at 231 feet above ground level.
---
South of town
South of town, we find this tower carrying both FM stations, and the remaining TV station for Cheyenne.
The tower (far right in this picture at left) is one of the taller ones in the Cheyenne metro area. It is located south of town near I-25 just before the Colorado border.
Starting with television, the very top of the tower is reserved for KLWY. 169,000 watts on RF 27 come from here. KLWY, is Cheyenne's FOX affilate. It's the flagship to KFNB, KFNE, and KFNR, located in Casper, Riverton, and Rawlins respectively. KLWY dates to the late 1980s, and has always been a FOX affiliate. Wyomedia, owner of KTWO-TV in Casper, owns KLWY, thus KTWO (ABC) is carried on a subchannel of KLWY.
From this tower comes one more FM station, KOLZ. KOLZ is on 100.7, at 100,000 watts. KOLZ is known as Kolt Country and is one of the more popular stations in Cheyenne. I'm a believer that it's strong signal has something to do with that. Other stations in Cheyenne are sandwiched in, because of Denver to the south.
To the left in this picture is a long-lines tower, formerly operated by AT&T. I've visited many of these sites across Wyoming.



Spot an error, have pictures of your own? Send corrections and other stuff to marsam233 at yahoo.com. Be sure to mention the specific page you are submitting items/corrections for, and how you would like to be credited. I review every submission and reserve the right to post those I see fit. Thanks for helping!
Go back to RTLI's Wyoming Coverage