Casper, Wyoming RTLI Coverage


AM radio station coverage starts below.
(some images are clickable, to see a larger image)
There are only four AM radio stations in Natrona County but many semi-locals that are not featured on this page make it in during the day. We will go in order of frequency for the stations.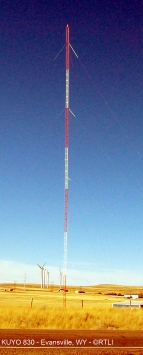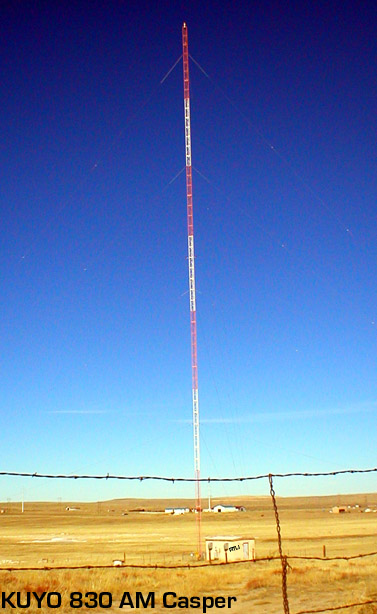 Both pictures at left are that of daytimer KUYO 830. KUYO is actually licensed to Evansville, Wyoming, a suburb of Casper to the north. The tower for KUYO is approximately 3 miles east-northeast from Evansville, directly next to Wyoming 253. Although it may only broadcast during the day, the station is not an official "daytimer" due to having critical hours power as well. This means that KUYO can sign on an hour before sunrise, and sign off an hour after sunset. At 25,000 watts non-directional during the day, it is one of the easiest stations to receive in the state of Wyoming and beyond. KUYO carries a religious format and is known as "Classic Christian Radio." It carries mostly format true programming, such as sermons and readings from Christian teachings and the bible etc.
The picture on the left shows the tower in November of 2010, while the right shows KUYO as it was in November of 2004. I first visited the tower in 2004, despite living in Casper for 10 years from 1989-1999, and knowing of the station's existence. I originally thought a tower near the Casper Events Center was KUYO, but later found this to be it.
KUYO has a Wikipedia article here.
KUYO at Radio-Locator
KUYO FCC Query
Next on the dial is the oldest radio station in the state, and perhaps the best known as well.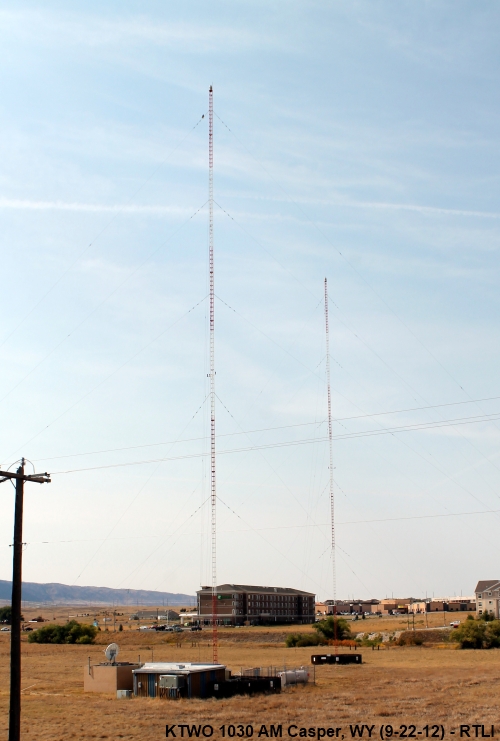 KTWO is, as mentioned, Wyoming's oldest radio station, signing on in 1930. The towers you see however, were probably not the originals, but the building to the right of the tower (not the hotel) may have at one time served as the studio. There was also, at one point, a television translator airing from one of the towers. As of November 2010, I can confirm that no television station comes from the KTWO site, as I was roughly 2 miles (line of site) from KTWO during my brief stay in Casper. If you are wondering how I know, I brought my laptop with a HDTV tuner and rabbit ears, and could receive all of Casper's locals pretty clear from the hotel room.
Originally on 1470 (a frequency now used by semi-local KKTY - Douglas), KTWO moved to 1030 in 1967 and was granted a clear channel status, having to protect WBZ Boston at night. Since 1967, no doubt, other stations have signed on on 1030, and KTWO's once dominating signal has been overrun by others (mostly at night). KTWO was once tied with the television station of the same name (see Casper Mountain).
KTWO is a "full service" radio station, and primarily a talker at night. It mostly carries conservative programming (as Wyoming is a red state), with shows like Sean Hannity and Rush Limbaugh. Coast to Coast blasts across the west from KTWO nightly. Along with KUYO above, KTWO is likely the easiest station to hear in the state of Wyoming. It has a massive daytime pattern that blankets half the state and beyond. Click on the image at left to see the full resolution picture. Click here to see a closer picture of the base of the towers.

KTWO article on Wikipedia - - - KTWO at Radio-Locator - - - KTWO FCC Query
Next we move on to a station that is nearly as old as KTWO, and has gone through many changes during the years.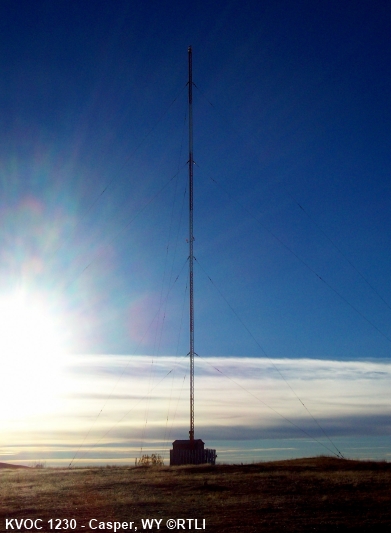 KVOC 1230 is, of course what we are talking about. It is also on a graveyard frequency which means it shares/fights with other 1230s, particularly at night, making reception difficult outside of town. At only 1kw, the station lacks the coverage that all other stations (minus KKTL) in Casper have, but it manages to hit at least Rawlins during the day, and has been DXed from Green River, WY during the night.
KVOC is now an ESPN Radio canned station. It once was a nostalgia station, being the only real oldies station in Casper, before KMLD signed on, on FM.

KVOC is operated by Mount Rushmore Broadcasting, whose studios are downtown near the courthouse (as they have been for many years). KVOC was independently owned and operated for most of its life. I assume this is the original tower from 1947. I also assume that the studios that are below the tower (now a building for sale), was the original 1947 studios as well. This is a sad chapter in the fascinating history of Casper radio, as a legendary studio is now abandoned for a dilapidated building downtown (more on this later).
It began as an oldies station (oldies weren't oldies in 1947) and then switched to country. If one looked at the then operating studios below the tower in the 90s, one would see a boot on the sign for KVOC. This image stuck with me as I used to drive past the tower every week on Sundays. When my interests in radio were first starting out, KVOC seemed monstrous to me. I (hard to believe) wasn't impressed by the tower for KTWO when I first saw it back in the day.
In the late 90s, the format flipped back to nostalgia, and then the station was sold to Mount Rushmore. With the sale, the station became a sports talk outlet, effectively putting a nail in live radio in Casper.
Mount Rushmore is notorious for having both financial and technical problems with its stations. In fact, when I was in Casper the day this picture was taken, a few of the sister FM stations were either off the air or experiencing problems. A look at the studio downtown (which I neglected to get a picture of) shows why. A step through the door is like stepping into a building that has been through a tornado. Wires hang from the ceiling, and the office is very unkempt. Now I do not fault the Casper office for this specifically, not saying things can't be done. Radio isn't as profitable business as it used to be and cuts are being made left and right. People who have been in the business for a long time are probably looking for jobs because most stations opt for voice tracking and robo-stations. But come on, when your studio looks like a dump, are you going to be taken seriously? I must say, from touring the Townsquare Media studio down the street (Townsquare owns KTWO-AM and a cluster of FMs), they are at least able to have a clean and safe studio. I could not believe the shape things were in at KVOC. I feel bad for the station, it has a long history, and I'm sure the previous owners who put it on the air in '47 are rolling in their graves as we speak.
We conclude the tour of AMs in Casper to a station I am familiar with as introducing me to Art Bell and his Coast to Coast AM program.
Back in the 1990s, KKTL 1400 used to carry the popular overnight program before KTWO took over in the early 2000s. I can recall a night in 1998 where the power was out for most of Casper, and with a battery powered radio, KKTL (and KTWO) were the only locals who were keeping us up to date on when we'd get it back. Luckily KKTL's tower was in a part of town where the power was still on. KKTL's tower, as seen at left from the parking lot of KCWY-TV 13, is actually in Mills, Wyoming, another suburb of Casper. It is in a heavily industrial part of town, very close to I-25 and the Casper Events Center. Prior to 2004, I had no idea where the tower for this station was, despite, as I mentioned, living in Casper for 10 years. I may have seen it earlier in my life, but I do not remember it as well as I do KVOC.
KKTL is also on a graveyard frequency (1400) sharing its coverage with many other 1400s at night, and limiting its listening area greatly, but only at night. As I lived on the east side of town, and Mills is 4 miles or so west, I had little problem receiving it. KKTL has also been heard as far as Green River, and most of central Wyoming. It carries a sports format, with programming from ESPN as of September 2012.
Records put KKTL on the air in 1956, roughly the same time KTWO-TV signed on the air. Ironically, KKTL is now owned by the same company that owns KTWO (AM), Townsquare Media. During the mid 80s, all the way up until the 90s, the station was a Christian Contemporary station.
It primarily carries talk programming, with personalities such as Glenn Beck, and previously Dr. Laura. As I mentioned, it carried Coast to Coast at one point.
KKTL has a wikipedia article.

This site is up to date as of 9-22-12.