KENDRICK MANSION (Trail End Historic Site)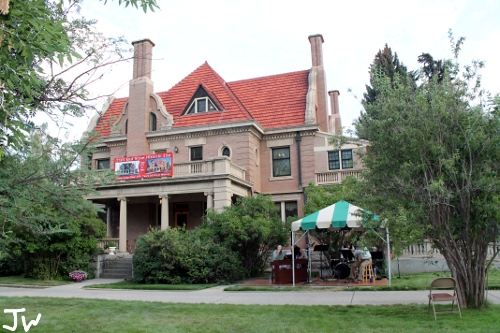 Trails End Historic Site, also known as Kendrick Mansion, was the home to former Wyoming Senator John B. Kendrick. Much in Sheridan is named after the late Senator, including this mansion, a park, and much more. The following evidence was gathered during a short investigation late in July of 2014 by a group of ghost hunters who has reached out to us to analyze their findings as well as post them online to see.
While no picture evidence yet exists from this investigation, if anything becomes apparent we will post it here. The investigation netted several supposed EVPs including a bell that was audible to the entire group. The following is their findings from that evening. The investigation took place around 9:30 PM local time. NR stands for noise reduction in the clips below.
AUDIO
Bells First - The ding noise you hear in the background of this clip persists for several minutes afterwards, and was not heard by any of the investigators on site. Original X1 - Amplified X1 - Amp + NR X2
Bells Second - More of the illusive bells that were once again not heard by the investigators. Again, this went on for several minutes. Original X1 - NR X1
Bells Third - More bells. We believe these sound like sleigh bells. Original X1 - NR X1
Bells 4th - This was said to sound like a piano. The source of the squeal like noise is currently unknown, and the tones come after you hear "a while". Original X1 - NR X2
Ding Ding - Two distinct bells - These bells are noticeably lower in tone than the previous. Original X1, NR X1, Short NR X2
"I don't like this" and unexplained whimper - This is what I believe to be a class A EVP saying "I don't like this". You also can hear a whimper, almost feminine near the beginning. Original X1 - NR X2
Two different bells in one - This clip has two different bells in it, one right at the start before the rustling is heard, and another right before you hear the investigator say "did you just hear that bell". It runs once with the original, and once with noise reduction, then twice with the audible bells singled out. Notice the similarities to the "ding ding" sound above.
Unexplained Squeak - As it sounds, an unexplained squeak noise. It sounds almost like a rusty water pipe type sound. Original X1, Amp and NR X2
Weird Noise - Can you explain this? It is in the background and hard to hear. Original X1, NR X1, AMP + NR X2
Weird Tones - This one is hard to hear, but comes after "what do you want to tell us". It sounds like a lower and then a higher note. Original X1, NR X 1 AMP + NR X2.
See more paranormal investigations here.