Last night in the Fine Arts main stage, I was entitled to a show (play) called "Book of Days"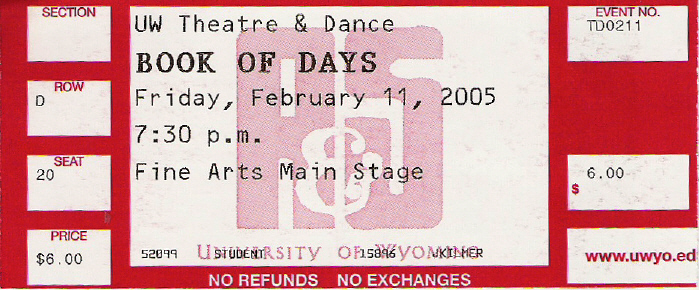 Now the only reason I had to see it is because I'm in an acting class and its required, and plus I got free tickets from some stu in my class who bought to many so I figured, what the hell.
This play chronicles the lives of several people over the course of several months and eventually a year. They are all hessians living in some town in Missora, and all they ever do is seem to want to talk to eachother about something thats going on. The characters are as follows: The stu actor who sounds a lot like Tom Hulce, who is a general manager at a cheese making plant, his wife who is in a local play called Joan of Arc, which is directed by this line losing guy who seems to be too much in his part. There is the allstar hessian whom is cheating on his wife with some other chick, and whom is the next in line to own the cheese company when his old man whom is a crusty guy dies (which he does.) Then you have the rich guy's wife of course, and this hillbilly dude who goes nuts later in the play. And finally, the Tom Hulce guy's mother, and the theatre guy has an assistant who is pretty stu.
Now I'm not one much for seeing plays at all, but I was surprisingly entertained by this one, and I just loved it when the sheriff guy forgot his line and filled it in much like the Girls Inc. incident in Casper years and years ago. The acting was about what I expected from a college theatre. Asside from forgetting lines, it was pulled off pretty well, and the show has been running since Monday so I don't see how or why that guy screwed up.
Anyway, if this play ever comes to your town, go sit through it and waste 2 hours and 30 minutes for pure none stop hessian acting.
Freddie Farz Jr. Esteemed theatre critic for the University of Wyoming performances.