Yesterday, the last day of 2007, we saw Charlie Wilson's War. This movie is based on a true story on how a nobody congressman from Texas helped to defeat the Soviets in Afghanistan by essentially giving weapons to and funding what would become the Taliban.
The movie stars Tom Hanks in the lead roll as Charlie, a sexaholic, alcoholic, cocaneholic congressman who doesn't seem to do much until he sees Dan Rather wearing a turban on TV. This starts him on a quest to kick the Russians and the Godzilla helicopters out of Afghanistan which, at the time, was a noble cause. The movie also stars Philip Seymour Hoffman who makes this movie. Don't get me wrong, the acting in this movie was good, but if anybody deserves and Oscar for a role, its Hoffman who plays a pissed of F-bombing CIA op who's job is to kill Russians. In this case, kill Russians by a proxy war. Julia Roberts stars as the boobish Texas Christian lady who likes to get nekked for Tom Hanks (unfortunately off screen). Anyway, the story pretty much revolves around these three characters and there attempts to bring down the Soviet UBSTU jte Empire. The movie also has my new babe of the week, Amy Adams. All I have to say is Aaaa.
This is a pretty good movie. That's not to say it's an Oscar movie though. I think No Country for Old Men and Into the Wild are more deserving for starters, but this movie does have it's moments as well. The story is interesting and it opens up a part of history that few American's know about. It also has implications for what is going on now in the middle east. Charlie Wilson's actual quote at the end of the film pretty much sums up whats going on in Iraq, Afghanistan and pretty much the whole middle east. On that note, 3.5 stars out of 4. Let's hope that we elect someone with intelligence, hope and the smarts to clean up GWB's mess.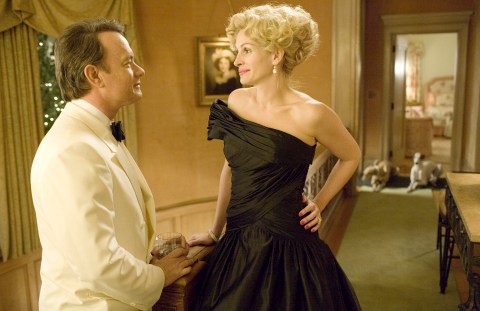 Hanks: "Is this another chance to see you nekked?
Roberts: "Only if the camera leaves the room."
Hanks: "Aww, where's the fun in that?"
P.S. Look for Milo in this film. He gained a lot of wait for this role but he is there. Ever since his erotic turn in Munich, he has been seen in many movies. He was also in National Treasure-Book of Secrets. In this movie, like in Munich, he turns out an Oscar worthy performance. Good job Milo!