It has been fourteen years... FOURTEEN YEARS!! A decade and a half (almost) since we've seen the Incredibles, and one of my favorite Pixar offerings on the screen.
Well those 14 years are up because this is opening weekend for the long awaited sequel. Now I am a 33 year old man. I was 20 when the first one came out. These movies are made for kids, but they're just as good for adults (if not better because we know the references).
Anyway, Incredibles 2 picks up right where the first film left off and once again our family of supers is thrown into chaos. This time everyone once again blames the superheros for the destruction of the city and they're forced to retire, again... Mike is not happy. Don't piss off Mike.
However, enter Saul, who as usual wants to help! He sets Elastigirl up on a series of missions to ultimately let superheroes back into society. Meanwhile, Mr. Incredible is tasked with taking care of the rest of the family.
Some observations from this time around... the animation is better. I noticed on a recent viewing of the first one that some of the faces of the characters looked almost a bit too plastic-y in shots. This has been fixed in the sequel. While it isn't quite as vibrant nor busy as Coco was, Incredibles 2 manages to break some new ground and the animation is a lot better. It looks sleek and fancy like you'd expect.
The story is about the same as the first film with some minor adjustments but that's what we came to see. We want to see the family of supers fighting crime and the hilarious antics that ensue. While the first film was certainly funny in its own right, I believe the sequel to be much much more so.
Several, well mainly one character steals the show, and I can't reveal who they are. Just see the previews if you're curious.
Was it worth the 14-year wait? Yes!
Was it worth $20? Yes (man ticket prices have gone up).
Was I seeing a movie with a bunch of kids who were 12 when the first one came out? Yes
Did people clap? Yes.
Did I flatch? No, not this time.
Incredibles 2 manages to be better than the first film in some ways and maintains that Pixar CAN NOT LOSE!.
I give it 4.2485943690 stars out of 5. Probably the second best film of 2018 so far.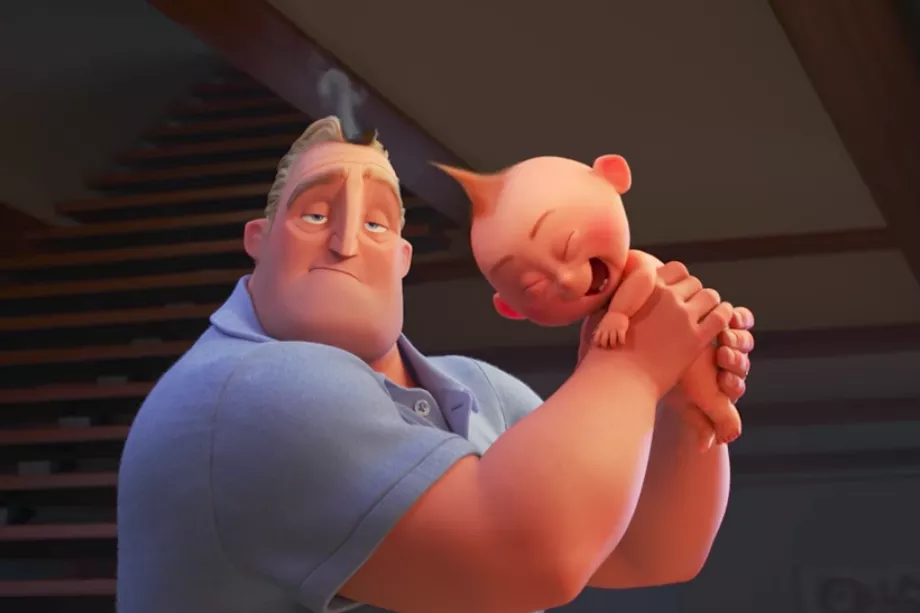 Here's hoping my future kid has 14 super powers, including the ability to out fart me. Probably will.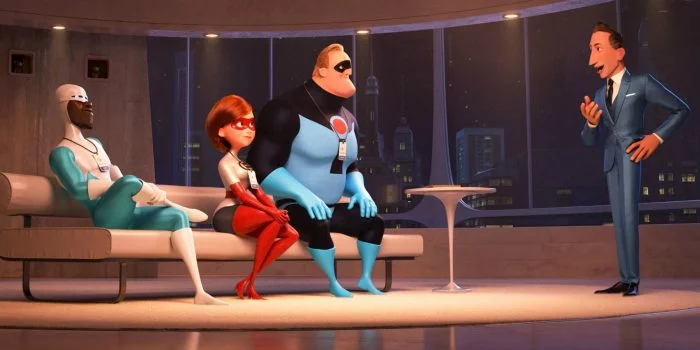 I'm validated for the entire day, okay? Five stickers, six stickers -- I don't know from stickers, because I was in that court back there saving people's lives, so…
Mike (offscreen): Well, gee, that's swell. And thank you for restoring my faith in the judicial system. Now you either pay the three dollars, or you go back inside and you get an additional sticker.