--Copy-pasted from Rotten Tomatoes for posterity--
Surprisingly this film turned out better than I had predicted it to be. The previews showed most of the funny parts but there are plenty more in the film to keep interest going. I enjoyed the references to the original film plus Murray (present) from Flight of the Conchords is in this film, what could go wrong. The movie does have a lot of CGI and i've become kind of desensitized to it. The acting is about what you'd expect from the cast. Hart and Black are the comedians and they're on their game for the most part there's not much from the other cast, aside from the Rock who I swear is typecast. The story is ok, and it reminded me a lot of Uncharted (the video game series on PS3 and 4). The teen actors had a short part and that was ok because they were kind of throw away anyway. I may only be in my 30s but man kids these days are so spoiled rotten and vain. At least that's what this movie has you believe. The movie feels a bit too long in the tooth, as in I can guess wahs would be checking their watches during the last third of the film. It wasn't a bad film it just could have been better. That's why I gave it 2.5 stars out of 5.
In addition, the sports team in this movie is the "Jags" which gave me a slight chuckle for obvious reasons.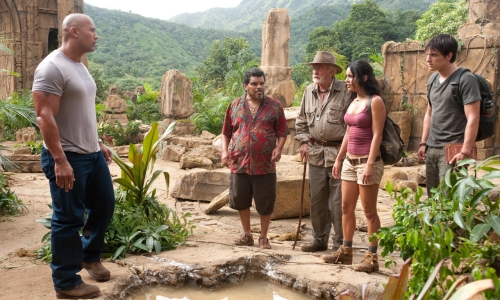 The cast of Jumanji... wait... Journey 2. Ya know what both films look identical so whatever.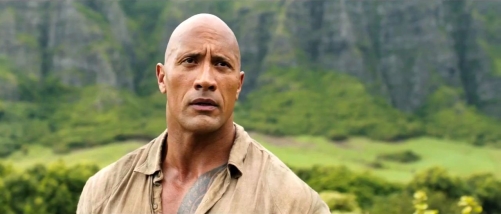 This is Dwayne Johnson's only expression throughout this whole film. Seriously.